Tenerife is blessed with absolutely beautiful year-round warm, sunny conditions, making it the perfect destination for outdoor activities and sports such as golf. Added to this it has stunning natural scenery with palm trees and cacti, gorges and mountains including the incredible Mount Teide, Spain's highest mountain right in the centre.
Course Video – Golf Costa Adeje

Golf Costa Adeje is more than just a round of golf. It's a two-course feast to make you feel as if golf is your sole reason for being. A big shout out to Martin Hejnar for making the video for us.

Posted by Golf Costa Adeje on Tuesday, May 22, 2018
Around the edge of the island is the gorgeous coastline with the bright blue Atlantic ocean surrounding it all. On the horizon you can also glimpse some of the neighbouring islands, such as the nearby La Gomera.
There are eight full-size 18 hole golf courses across the island, offering plenty of options for those booking a golfing holiday in Tenerife, or for those just looking to play a round of golf or two in these perfect conditions. One of these beautiful courses is the popular and superbly maintained Golf Costa Adeje in the South West of the island.
The Course
The main championship course is a sublime 18 hole par 72 course. This course has been designed by integrating the natural characteristics of the area into the course. This means when you play a game on the course you will be surrounded by the gorgeous environment of Tenerife including palm trees, the mountainous landscape, the ocean with La Gomera in the distance, and all under a bright blue, sunny sky.
There are some truly iconic views to be enjoyed while playing this course, making the experience that much better than if you were playing somewhere with less than desirable conditions such as on a rainy, windy, cold course in another part of Europe.
While temperatures do of course vary throughout the year, due to the location of the Canary Islands closer to the equator than the rest of Europe, but not too close, you will find what many experts have described as the best climate in the world! This of course makes ideal playing conditions at practically any time of the year!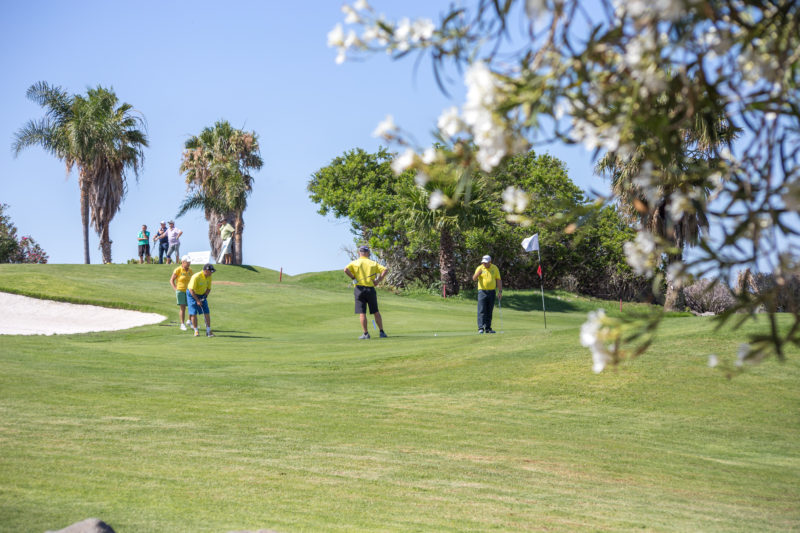 Golf Costa Adeje also benefits from a separate 9 hole par 33 course called Los Lagos. This short course is located next to the driving range, and although they are a little shorter they are also quite technical offering a good challenge. This is a great spot for those with a higher handicap to enjoy this fantastic sport, with stunning sea views and 6 lakes.
The Club House
Golf Costa Adeje boasts a fantastic club house where you will find a superb restaurant/bar where you can enjoy top quality food or drink before or after your round of golf, or enjoy a meal or drink even if you are not playing that day. The views out to the course are sublime and make the perfect setting to sit with friends, family or colleagues.
A Peek Inside The Golf Shop.

Posted by Golf Costa Adeje on Wednesday, May 9, 2018
You will also find the excellent golf shop which has a huge selection of high quality men's and women's golf clothing and equipment to suit a variety of different tastes and styles.
Practice Features
There is a 45,000 m² Driving Range designed into a natural and stunning setting, with three different levels set on different heights. Access to the practice amenities are made a lot easier by an elevator which also takes up Golf Buggies. There is also a practice bunker, two putting greens and chipping greens available.
Course Details