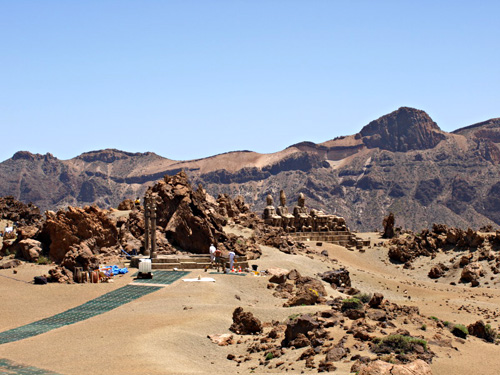 Tenerife Magazine's round up of some of the most interesting news stories of the week in Tenerife.

Clash of the Titans returns to Tenerife
There was a minor buzz on Twitter this week when it was revealed that the Clash of the Titans crew and cast would be returning to Tenerife this summer to film scenes for Clash of the Titans part two: Wrath of the Titans (title at the moment). Once again it's expected that Teide National Park, Garachico, Guía de Isora and Icod de los Vinos will stand in for Ancient Greece.
Despite being panned by film critics and audiences, Clash of the Titans was a huge worldwide success hence news of a sequel. Director Louis Letterier blamed the studio's decision to jump on the 3D post Avatar bandwagon for the poor reviews, but in reality many people thought the movie was a bit of a stinker"¦Tenerife was probably the best thing in it.
Stars Sam Worthington, Liam Neeson, Ralph Fiennes and Gemma Arterton reprise their roles whilst Jonathan Liebesman replaces Louis Letterier as director. This time it will actually be filmed in 3D and is scheduled to be in cinemas around spring 2012. Let's pray that it's a lot better than the first.
Multiculturalism isn't working in Tenerife
First it was Angela Merkel, then David Cameron and now it's a spokesperson for a neighbourhood association in a town on Tenerife. In El Dia newspaper, the president of la Asociación de Vecinos Balcón del Atlántico in El Fraile complained that incomers were sticking to their own ethnic groups and not getting involved with community activities. He commented that many had not made any effort to adapt to the Canarian culture, implying a lack of respect for traditions and that this could lead to xenophobia. As a non-Canario it's thought provoking from an immigrant's perspective to read comments like this. It's a sort of shoe on the other foot scenario.
Free guided tours of Teide National Park
It's good news, bad news time. The good news is that the representatives of the Association of Professional Tourist Guides are conducting free guided tours around the Roques de García in Teide National Park as part of the celebration of International Tourist Guides 2011. The bad news is that as the tours are at 10.30am and 2.30pm anyone travelling by public transport probably won't be able to take advantage as they don't really tie in with the Titsa timetable. Good tourist guides they may be, but a little work on planning skills looks as though it's required.
A reminder of the world's worst plane crash
Excavations in the San Juan cemetery in La Laguna uncovered a reminder that the word's most horrific air crash, involving two 747 jumbo jets, occurred at nearby Los Rodeos almost 34 years ago. The excavations are part of a project searching for the bodies of local people who went missing during the dark days of the Spanish Civil War. However, the chamber that was uncovered last week didn't contain victims of the war but unidentified remains of victims from the crash that claimed the lives of 583 people. The investigation into searching for "˜missing persons' from the Civil War in the cemetery continues until 15th March.
Tenerife's Eco Museum to open in 2011
Like many projects on Tenerife, work on the Eco Museum in El Tanque seems to be progressing at a snail's pace. But there is light on the horizon. The main buildings should be completed by June, an area for cattle has been built and terraces are being prepared for the planting of nearly 152 varieties of potatoes"¦that's an awful lot of papas arrugadas. The location of the museum dedicated to rural life, near Los Llanos de San José, is a breath stealer and is also the venue for the wonderful Dia de la Trilla agricultural fair.
And finally the TIT (This Is Tenerife) of the week award goes to… Arona council for taking an eternity to post information about the Los Cristianos carnival on their official website"¦
"¦And for having a teasing little carnival logo on the site which, when it was clicked, came up with a page which more or less said "" "˜no information about this here.'
To be fair to Arona at least they do provide decent information on their website, but they need to wake up to the fact that these days potential visitors are looking for dates of popular events quite a bit in advance. There have been questions about the Los Cristianos carnival dates on forums and English language websites for weeks and even on the council's Facebook page"¦where they were left unanswered. In the end the Tenerife Tourist Board announced the dates on TripAdvisor's Tenerife Forum before Arona included them on their website.
It's great that some Tenerife councils are starting to use social media like Facebook and Twitter but they need to understand that these are tools for interaction as well as posting information"¦and that they don't have to wait for the "˜official poster' about the event to be ready before sharing information online.