If you are looking for somewhere to stay in Tenerife, you will find you are spoiled for choice as there is something to suit practically any budget or taste. For those searching for truly exceptional accommodation with sophistication, class and a real air of exclusivity, then you needn't look any further than Hotel Jardín Tropical in Costa Adeje!
Don't worry though, this is definitely not an old-fashioned boring style of luxury, but instead a far more modern, stylish and chic variety that is ideal for every generation, and is perfect for couples, families or solo travelers.
One way in which Jardín Tropical have managed to maintain their coveted position as one of the top hotels in Tenerife is through continuing to innovate and update their brand, accommodation and services. The demands of travelers are constantly changing year after year, so it is important to adapt in order to stay relevant and meet these needs.
Too many hotels are satisfied with staying the same, but this is certainly not the case with Jardín Tropical who decided that is was time for a major renovation to enable them to stand out from the increasingly crowded accommodation competition that now exists in Tenerife.
The team here at Tenerife Magazine were invited to the fantastic relaunch party that took place recently, and it is clear to see that the owners of the hotel are not ones to merely settle for half measures. This was an absolutely brilliant evening, that was befitting of the exceptional  full-scale renovation that has taken place at this beautiful tropical-themed resort, that stands out superbly from the crowd.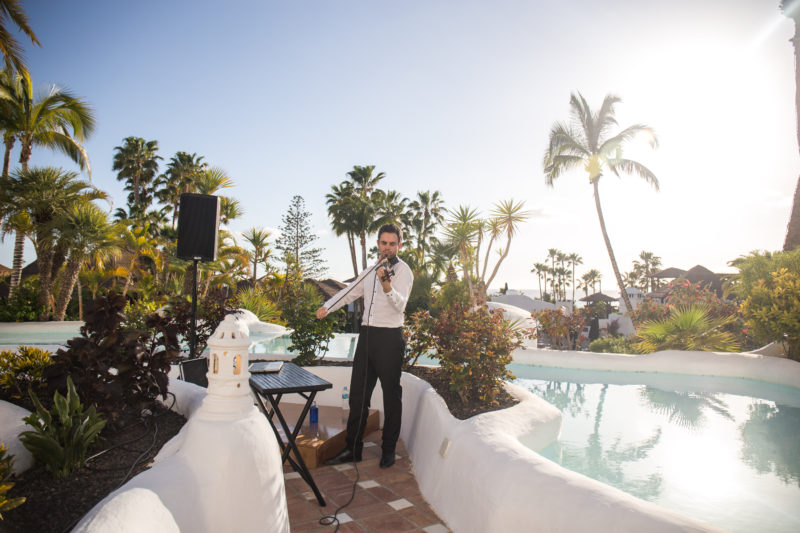 Before the actual relaunch event started we were able to take a look around one of the newly renovated apartments. Inside, all the furniture, fittings and design had been completely updated, creating a truly stunning interior. It is no exaggeration to say that this is somewhere big and comfortable enough to live in.
As the major 18-month refurbishment of Hotel Jardin Tropical comes to an end, our iconic hotel reopens with a night to remember! Thank you Gina Akers TV & Radio Presenter, TV Beauty Expert & Writer for taking part in this special night of ours.

Posted by Jardin Tropical on Wednesday, April 11, 2018
As we stepped outside of this incredible room, we were greeted with an absolutely giant terrace area which is bigger than a lot of the gardens people have at their homes! This was an area more than sufficient to host a party and had a selection of tables, seats and sun loungers. What's more, the panoramic view of the palm tree lined pool and ocean are absolutely sublime.
After this, it was time for the party, and those invited were in for an absolute treat. Befitting the event, everyone that showed up was dressed to impress with the men in shirts, smart trousers and shoes, and the women in stylish dresses and high heels. The guests' chic clothing choices certainly matched the mood of the evening perfectly and of course the gorgeous surroundings of the redesigned hotel.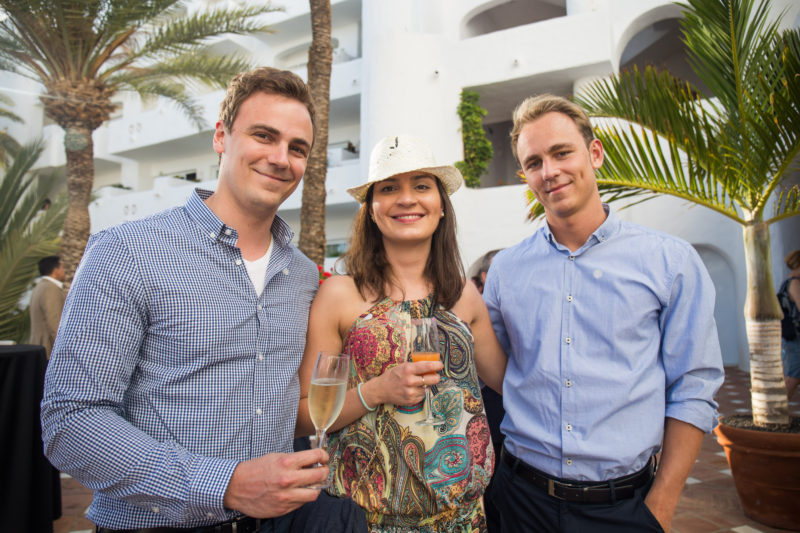 The evening began with a wide selection of different drinks at the superb new bar near reception. The atmosphere was buzzing and everyone was having a brilliant time, with conversation flowing and plenty of compliments from the guests about the hotel redesign, friendly staff and of course the beautiful setting.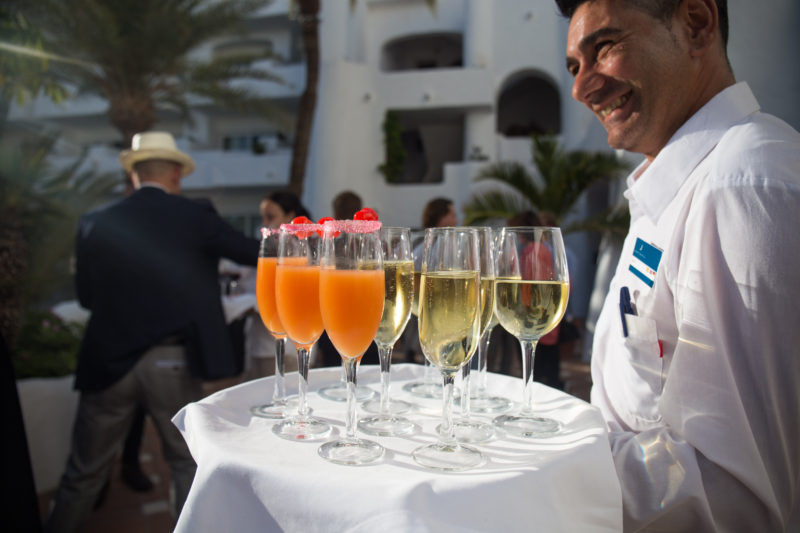 Following this everyone headed to a spacious upper terrace area with a bar overlooking one of the hotel pools located next to the ocean. Here attendees were treated to more drinks and a selection of delicious food such as oysters and tasty mini crab burgers.
There was also a live DJ playing chill out music, creating the perfect ambience as the sun set behind neighboring La Gomera in the distance. With beautiful weather (as is to be expected in Tenerife), stunning palm trees, an excellent selection of food and drink, music to fit the mood and plenty of great conversation, it didn't seem as if the evening could get any better!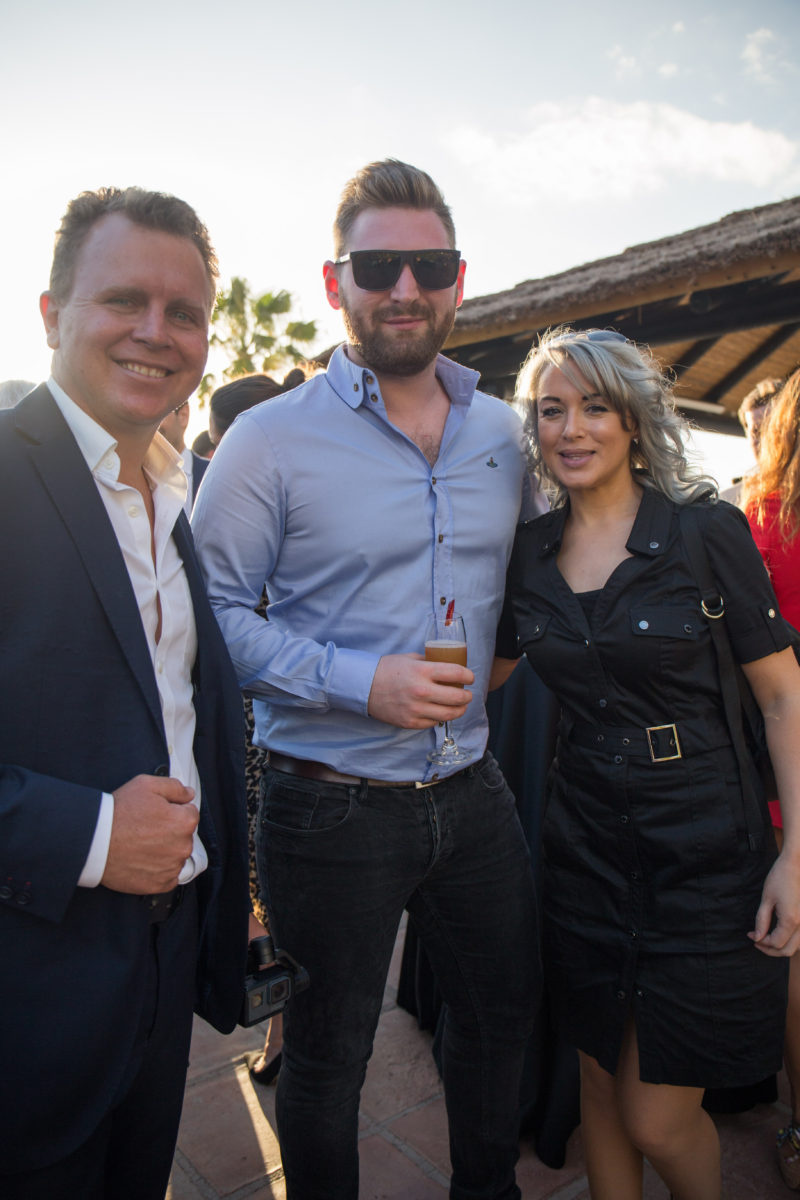 Once the sun had set, everyone headed down to the picture perfect pool by the ocean where we were treated to an acrobatic performer, a group of live drummers and then music from a live band! Just as with the complete makeover of the hotel, those who had designed and coordinated tonight's event seemed to have thought of everything!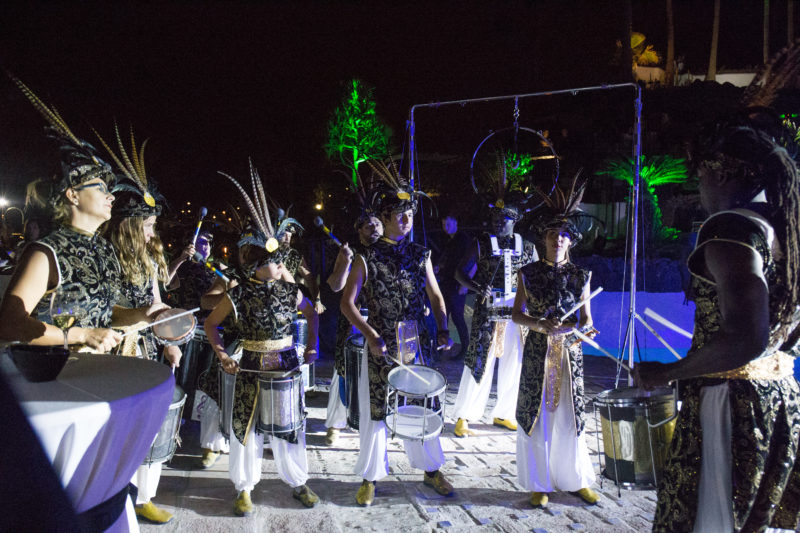 There was yet more fantastic food and drink to enjoy, and  speeches by a number of different people including Saad Azzam the General Manager of Hotel Jardín Tropical, Fernando Clavijo Batlle, Presidente del Gobierno de Canarias, Carlos Enrique Alonso Rodriguez, Presidente del Cabildo de Santa Cruz de Tenerife, José Miguel Rodríguez Fraga, Alcalde de Adeje and others.
Following this, to top off the evening there was even a fireworks display which really did feel like the icing on the cake of a brilliant evening of entertainment and fun. This was an event that really did do this incredible hotel and beautiful full-scale refurbishment justice.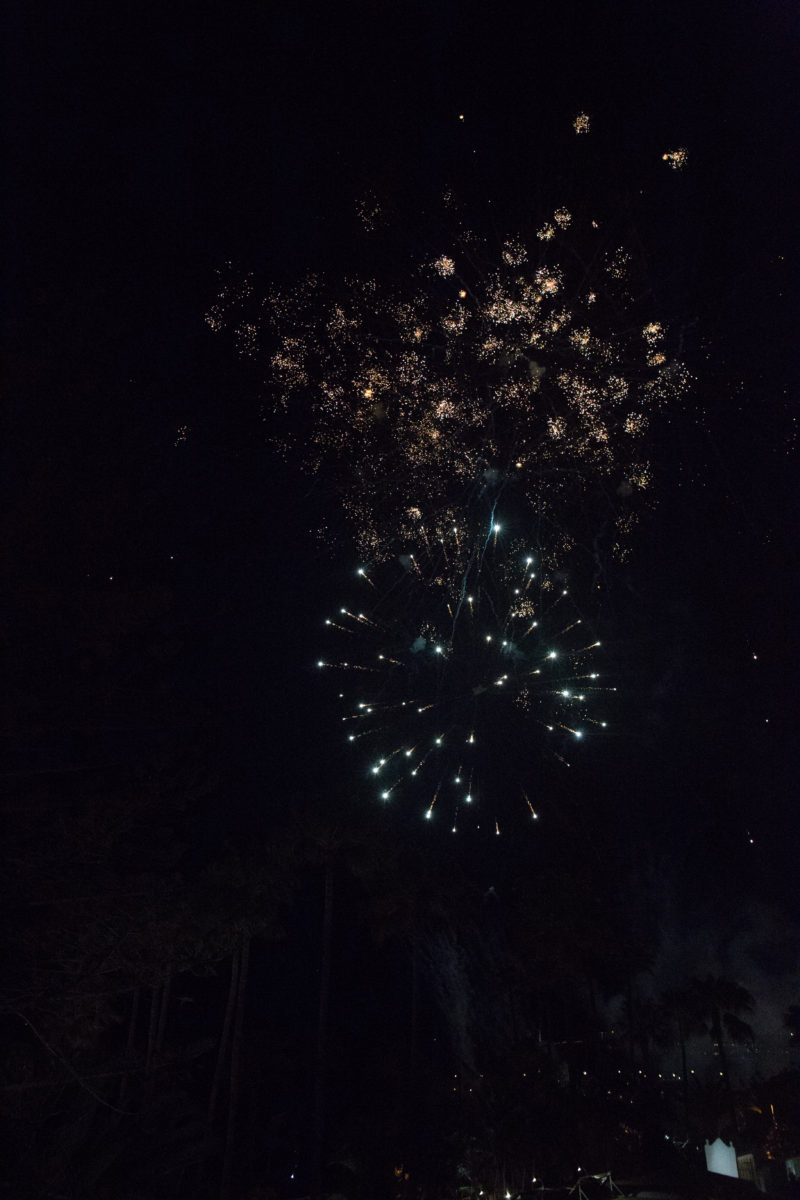 We would like to offer our thanks to everyone involved and for the invitation to enjoy this exclusive party which our team all thoroughly enjoyed. It is without a doubt that Hotel Jardín Tropical will continue to grow from strength to strength as they retain their position as one of the very best places to stay, in one of the greatest destinations in the world!