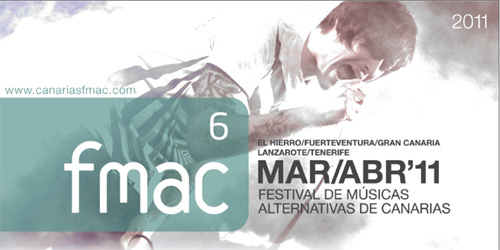 Vegas lounge crooners, tribute acts and stars who made it big in the eighties are all very nice, but what is there for those of us staying in or visiting Tenerife who get a buzz from vibrantly fresh and original live music? Where do we go for our hit of sex & drugs & rock 'n" roll…well the rock 'n" roll part anyway?
The answer is that there are actually plenty of venues to see good, live original music that offer an alternative to the cabaret and tribute acts more commonly associated with the music scene on Tenerife. And the next couple of weeks sees the best of the Canary Islands" musical talent rock the reef, as well as most of the other islands, as part of fmac 11; The Canary Islands Festival of Alternative Music.
This year nearly forty bands are performing at the fmac festival. Most are Canarian based, but there's also a good sprinkling of artists from mainland Spain, Europe and as far afield as Japan. On Tenerife a concentrated dose of the indie rock, pop, jazz, world music and funk that usually makes up the sounds heard at the fmac festival can be a welcome change to those of us fed on the musical diet of the Latino beats and traditional Canarian compositions most often heard outside of the main southern resorts. For everyone else the festival is a great opportunity to get to hear some thumping live local bands do their stuff as well as experiencing a different face of Tenerife's night life that isn't usually seen by most visitors.
Most of the concerts are free and there are seven venues just on Tenerife alone; Cafe Quilombo (La Orotava), Castillo San Felipe (Puerto de la Cruz), Bar del Sheriff (Puerto de la Cruz), Cafe 7 (La Laguna), Banda Aparte (Santa Cruz), ON Bar (La Orotava) and La Casa de la Cultura San Agustín (La Orotava).
The first guitar twangs rang out on 18th March, but fmac really only hits its stride in April and the next three weekends see nineteen different artists bring their own particular brand of alternative music to venues on Tenerife; the highlight of which is the free concert featuring three or four bands that signals the end of the festival. Usually this is held beside Casa Aduano (the customs house) in Puerto de la Cruz but this year it's been inexplicably shifted. So if anyone wants to catch Lanzarote's pop/rock group Oscartienelas, Tenerife rockers Marvel Hill, electronic punksters LolaLola and the 'delightfully' named Fuckin Four Factory from Gran Canaria, they'll have to head uphill from the north coast to the plaza beside the Casa de la Cultura San Agustín in La Orotava on the night of Friday 15th April.
Historic surroundings and rocking good music in the same package and for free…surely an alternative aspect of Tenerife that is worth seeking out?
For a full list of venues, artists and dates (but curiously not times) check out the official fmac website here…