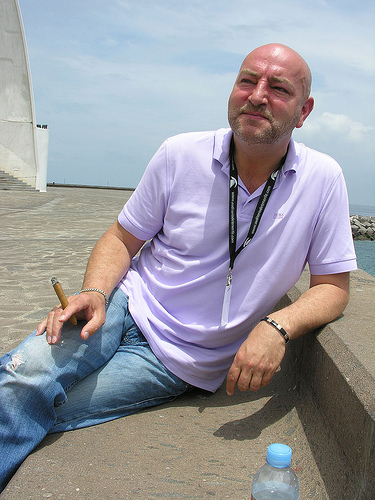 Swans are majestic and serene on the surface but frantically paddling below the water, hardly the case with Tony Mercer, Artistic Director for Swan Lake On Ice. Just a few hours before the opening show in Santa Cruz he looked calm and relaxed as he drew on his cigar and blew smoke out to the Atlantic below the concourse of the Adan Martin Auditorium. As four of his cast emerged to grab some sunshine he pointed them out to me; "ah here come my children".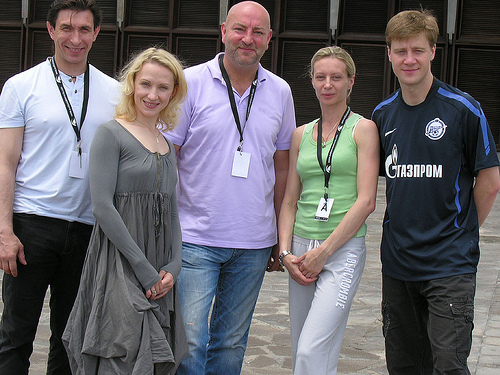 The Imperial Ice Stars are like a big family, 25 world class skaters with a haul of 250 competition medals and a dedicated technical team of set builders, designers, and ice engineers. Tony hand picks new cast from his Moscow base "before we started this two year tour I looked at 50 possibles but only chose two to join us".
Growing up in Salford, Manchester, Tony was already juggling his options "I loved sport and drama, I was playing football as a goalkeeper for Droylsdon in the Northern Premier League and one of my Manchester United heroes, Alex Stepney was my coach. My school drama teacher had encouraged me to move into the directing side and I was enjoying working on local productions but then I broke my leg at football."
The 9 month recovery changed the course of Tony's life.
"Football was finished for me and luckily I was offered a job with Playlight Lighting Company that was desk based at first. Those were great times working with musical heroes like The Three Degrees, Harold Melvin, The Supremes, Elkie Brooks, Jack Jones, I even got to do the lighting for the Popes visit to Heaton Park in Manchester".
Teaming up with award winning Russian choreographer Tatiana Tarasova, Tony formed Wild Rose Ice Theatre and took Sleeping Beauty on the road with the aim of taking arena shows onto stage settings but it was difficult to hit the balance that would please fans from both sides of the artistic fence.
So Tony and James Cundall founded The Imperial Ice Stars with an initial four month run for Sleeping Beauty but calls from venues like the Lyric Theatre in Sydney stretched the run to 18 months, now the company tours for 40 weeks a year. It's not always smooth running, last year's volcanic ash cloud stranded Tony in Bulgaria: "The show was on in Montreal so I ended up overseeing the rehearsals on Skype". The sheer logistics of the shows are staggering; the Tenerife show meant 140 hours laying the ice pad and another 30 to demolish it later.
Sounds like hard work. "Anyone who says it's hard work hasn't got the mentality we need for the performances. We all love what we do and get to tour to some tremendous places. I had only been to Tenerife before on holiday as a 17 year old and didn't really think of it as a theatrical base. When the proposal to perform here came up I was flown out and was staggered by the quality of the Auditorium and the level of commitment to performance."
The opening show lived up to all expectations, Tchaikovsky's strident and emotional music couldn't have found a better acoustic home, and the clever use of layered backdrops and lighting made each scene visually stunning. It was the vibrancy, skill and interpretation of the skating cast that captured the imagination. They were all outstanding but the main players relished every moment with towering performances. Andrei Penkine made hero Siegfried vulnerable but ultimately strong; Vadim Yarkov oozed evil as Count Rothbart; Olena Pyatash teased and tempted as the black swan, and Olga Sharutenko was the shining light as the white swan. The standing ovation was warm and prolonged. Let's hope the next tour flies in to Tenerife.
FACT FILE
El Lago de Los Cisnes Sobre Hielo (Swan Lake On Ice)
Adan Martin Auditorium, Santa Cruz
Shows Thurs 26 May 8.30pm, Fri 27 May 6pm and 9.30pm, Sat 28 May 6pm and 9.30pm, Sun 29 May 6pm.
Tickets from 19 to 45 euros. Book in person at the Auditorium box office 10 am to 3 pm Monday to Friday and 10 am to 2 pm on Saturdays, or phone 902317327 from 10 am to 7 pm Monday to Saturday or on line.