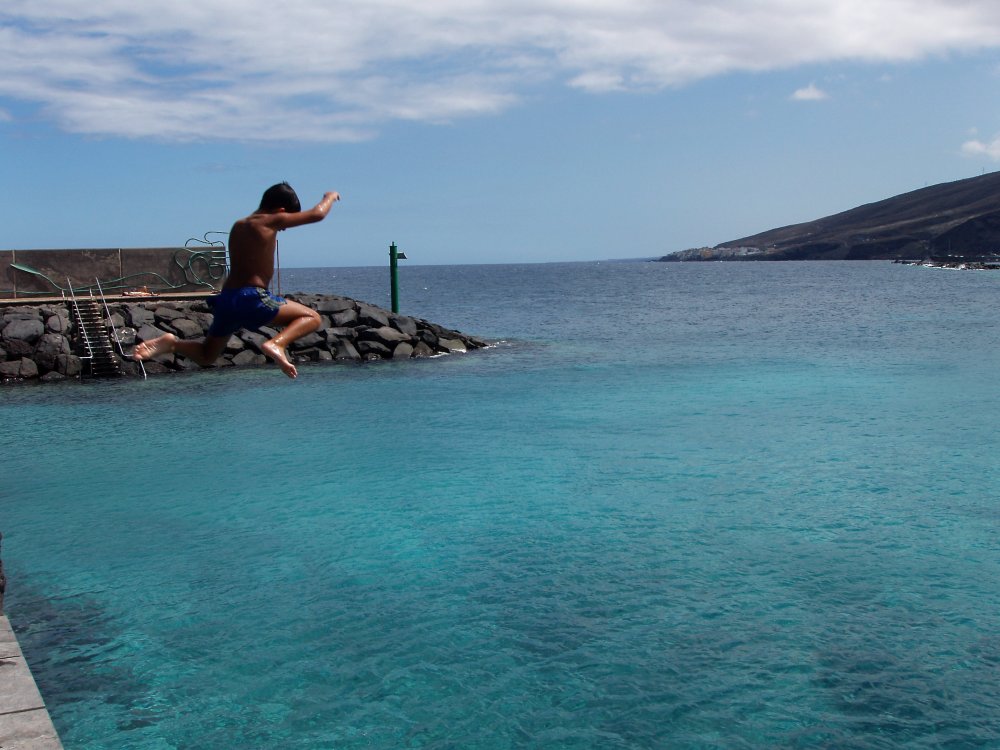 1. Fair weather friend
Well of course the weather's the number one reason for throwing the bikini and factor 15 into a suitcase, perusing the Net for cheap flights to Tenerife and waving goodbye to the snowman.
Just four or so flying hours from the UK, who wouldn't want to wiggle their toes in the warm sand, settle down beneath a palm tree with a good book and a long cocktail and exchange that milk bottle look for a healthy olive glow? It's the single most common reason why millions of people choose to holiday in Tenerife "" and who are we to argue with them?
2. One island, many holidays
Tenerife is such a microcosm of landscapes that it's like visiting a dozen different holiday resorts in one. From beaches to picturesque villages, theme parks to green parks and sandy shores to mountain highs you can find every type of holiday experience in less than 800 square miles of tropical paradise.
3. Swing into Action
On Tenerife you can pretty much guarantee that there'll be at least one championship golf course basking in sunshine every single day of the year, and what's more, there won't be any earache from the other half. Golf widows can retire to the beaches of Playa de Las Américas, Costa Adeje and Las Galletas or indulge themselves in top notch hotels while their other halves pander to their favourite obsession.
4. A Taste of the Good Life
Eating out on Tenerife is still an affordable luxury and although blackboards advertising All Day British Breakfast still abound in some resorts, those with a more refined palate may be gastronomically surprised. From chic city dining to bijou resort bistros and five star hotel restaurants to gourmet secret gems "" Tenerife restaurants are today's special.
5. Holiday on another planet
There aren't many places in the world where you can travel from snow topped mountain to sunbathing on the beach in less than two hours but Tenerife is one of them. Not just the icon of the archipelago and pride of Spain, Teide National Park is also the most amazing landscape you're likely to encounter this side of a long weekend on the moon.
6. Party Dude
Ask anyone who lives here, one of the things the Tinerfeños do better than most is they know how to have a good time. From bar hopping in your resort to subjecting your senses to an all out assault at Europe's biggest carnival, for those who enjoy the hedonistic pleasures of life, almost every night is party night on Tenerife.
7. Rural retreats
Tenerife can be many things to many people and while thrill seekers find pleasure in the theme parks and nightlife of the resorts, nature lovers can escape the noise and bustle of the world in Tenerife's idyllic rural interior. Whether you're a walker, a tent pitcher or an away-from-it-all junkie, there's a rustic retreat with your name on it.
8. Sail away
Tenerife is a stepping stone to the Western Canary Islands of La Gomera, La Palma (above) and El Hierro, all of which are just a short sail and a million miles away from the tourism centres of Tenerife. For the price of one flight to Tenerife and a ferry ride, you can experience half an archipelago.
9. Dive in
Centuries of volcanic eruptions have formed a mysterious underwater world of basalt columns and silent caves "" all of which are teeming with marine wildlife. Warm, deep waters close to shore provide some of Europe's best diving for those with a penchant for rubber and air tanks.
10. Thar She Blows (Photo courtesy of Atlantic Whale Foundation)
Personally, I prefer my air supply limitless and am happy to watch the amazing creatures of the deep from the deck of a sailing ship. Bottle nosed dolphins, minke and sperm whale occupy and pass through the warm waters between Tenerife's west coast and neighbouring La Gomera making Tenerife one of the best places in the world to watch them in their natural habitat.