If you are looking for something to do on your next trip to Tenerife that will leave you truly awe struck, then we have the perfect excursion for you! The opportunities for most people to see animals in the wild are severely limited these days, especially when living in big cities. The only animals in the wild that many people might see are the odd fox, bird or possibly some stray cats or dogs. Not exactly very exciting I'm sure you'd agree!
Well we have some good news for you! The waters surrounding the Canary Islands are some of the best in the world to see some of Earth's most majestic and incredible creatures; whales and dolphins, enjoying their natural habitat. You might have seen these animals on the TV before or perhaps in a zoo, but nothing prepares you for the time when you get your first glimpse of a whale breaking the surface of the water for air, or dolphins leaping in and out of the waves.
Seeing these animals in their natural habitat is like nothing you will have ever experienced before, because of how majestic they are in the water. The ocean is where they belong and they are able to glide through it effortlessly. Apart from the odd Olympic swimmer (think Michael Phelps), most people look rather ungraceful in the water when they swim. Humans are simply not naturally designed for swimming around in the ocean. Not so for whales and dolphins of course, who move in a seemingly effortless way. This is especially true for dolphins who move with an absolutely breathtaking speed and agility, as they leap playfully in and out of the water.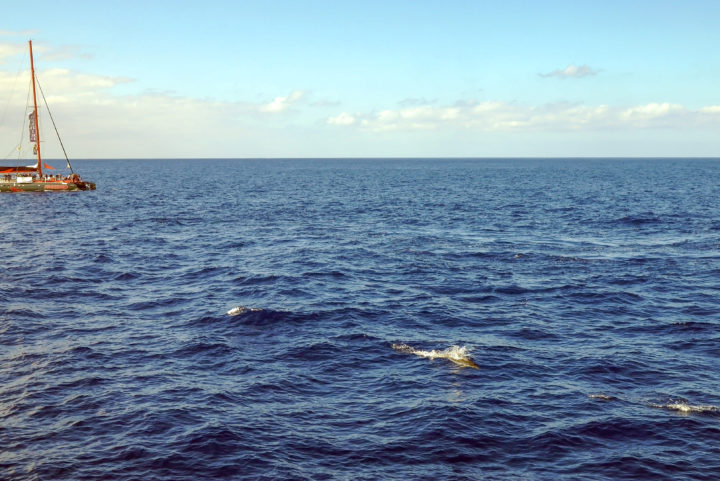 A superb option for a whale and dolphin watching experience is with the excellent catamaran excursion company Freebird One who are based in Puerto Colon in the South of Tenerife. The company offers two excellent options to see whales and dolphins either on their three or four and a half hour excursions. Both of these will take you out into the open ocean in between Tenerife and La Gomera which is literally one of the only places in the world where you can see Pilot Whales and Bottle-nose Dolphins together enjoying their natural environment.
In fact, when you head out on either of these sailing excursions you can almost be guaranteed sightings of these stunning animals which literally leaves those on board gasping in amazement. Most of the time it is not just one or two solitary creatures, but multiple whales and whole pods of dolphins. The dolphins especially put on an incredible show as they swim alongside the luxury Freebird Catamaran. It's almost as if they know exactly how to please the crowds. At certain parts of the journey you will witness 20 or more of these majestic animals swimming, leaping and playing. It is clear that they are not doing this for anything other than the shear fun of racing the catamaran and putting on a show!
While on-board the catamaran you will be looked after by a friendly, attentive and professional crew who will make sure you are comfortable and safe at every stage of the journey. You will be provided with refreshing drinks (alcoholic and drinks throughout the trip and you a tasty lunch. Towards the end of the excursion after you have enjoyed the whale and dolphin show, the crew will drop anchor near a beach where you can dive into the beautiful ocean for a refreshing swim or alternatively you can just stay on-board relaxing in luxury while you top up your tan. The choice is entirely yours on this luxurious sailing journey.
So if you love Tenerife but are looking for something more adventurous and interesting than laying on the beach or by the pool all week, you should definitely book a whale and dolphin watching adventure with Freebird One, who are one of the most well-established and highly rated companies on the island.
For more information about Freebird One make sure to check out their website: http://www.freebirdone.com/en/ and follow them on Facebook.
If you are thinking of investing in property development in Tenerife then make sure to take a look at Andreas & Partners website. Alternatively, if you are planning to move to Tenerife or buy a holiday home or property for rental here, then take a look at the Second Home Tenerife website and Top Immo Teneriffa website.