Australian Stacey Keating birdied the first extra hole in a sudden death play-off to secure her maiden Ladies European Tour victory at the Tenerife Open de España Femenino on Sunday.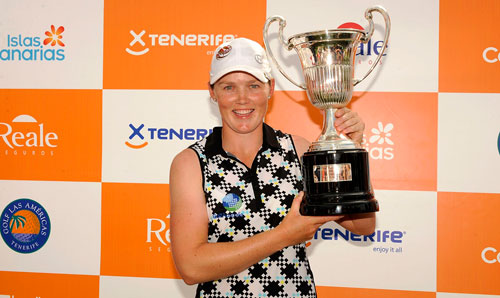 Keating holed a five-footer for birdie on the 494-yard / 452-metre par five 18th hole at Golf Las Américas after she tied on nine under par with Germany's Caroline Masson.
"It was a tough day out there and Caroline and I both played well. It was nice to take it to a play-off and then get over the line," said Keating, 26, from Cressy in Victoria.
Keating closed with a two under par 70 to come from a stroke behind Masson but it was a close final round duel in hot and windy conditions, with temperatures at 29C.
The pair tied for the lead after two holes and the lead exchanged several times before Masson made a mistake in the play-off by hitting her second shot into a water hazard. Her third came up short in the rough while Keating hit a superb approach shot to five feet short of the flag.
"All day it was very close and Caroline holed some putts when she needed to so it was nice and it's always nice to birdie the play-off hole," said Keating, in her second year as a professional.
She added that the victory would make amends for the massive disappointment of the previous week at the Ricoh Women's British Open, where she was disqualified for signing for an incorrect score when lying in a tie for 32nd place.
"I've probably had the worst week of my life and the best week of my life in two weeks. It was very disappointing last week but this makes up for it, I can tell you. It will be all forgotten, last week," she said, paying tribute to her caddie, Darren Peters, who is also her boyfriend and the support of her mentor, Karrie Webb.
"After the disappointment of last week she's been great. Her and Karen Lunn, I have to mention her as well. They've been unbelievable. I don't like to say, the veterans out here, but they've been great and they really have helped me and Kaz has been great out here this week."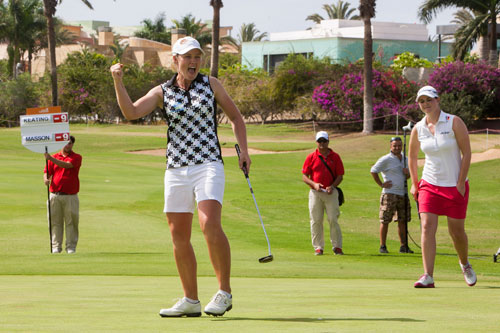 Masson, the South African Women's Open champion in July, was left close to tears having come so close to her second victory this season.
She said: "If you hit the worst shot of the week in a play-off it's a bit unlucky and I got lucky that I could actually hit that ball. If you hit a shot like that you don't deserve to win and Stacey played well. She made birdie and just congratulations to her."
Masson was a stroke ahead on 10 under par after a birdie on the par-five 16th, but she dropped a shot at 17 after hitting a poor tee shot behind a group of palm trees.
She chose to chip out to the fairway rather than play a risky shot but missed her par putt. Masson had a shorter birdie putt than Keating on 18, but both players made par to stay tied for the lead.
"You have to scramble and I think she did that really well," Masson said. "A few more putts could have dropped but it's always like that. I did it pretty similar to her when I won in South Africa, didn't make many mistakes, a few good putts for par and that's what she did today."
England's Trish Johnson also came close to her 22nd career victory with a final round 67 that left her in third position.
She made a spectacular start with an eagle on the first and a birdie on the sixth. A two under par back nine left her one stroke short of making the play-off and she said: "To shoot five under on the last day in pretty tricky conditions, you've got to be fairly happy. I'm a little bit disappointed to come up one short, I guess. I had a couple of chances. 17 was disappointing, I had a straightforward birdie putt and left it in the jaws short. You know the greens are slow but to be fair to them, they are slow but you can hole some putts: you've just got to hit them harder than you're normally used to. I thought if I could finish birdie, birdie, birdie, I might have a chance, which obviously I did."
Australian Nikki Garrett, who led after the first two rounds, shot a final round 70 to finish in fourth place, while Carlota Ciganda and Tania Elosegui were the leading Spanish players in a four-way share of fifth place with Esther Choe and Lee-Anne Pace on six under par.
Tenerife Open de España Femenino, Golf Las Américas (par 72), 20-23 September 2012, Final Scores:
279 – Stacey Keating (AUS) 70 69 70 70 "" (won on 1st extra hole of play-off)
279 – Caroline Masson (DEU) 69 69 70 71
280 – Trish Johnson (ENG) 67 74 72 67
281 – Nikki Garrett (AUS) 64 73 74 70
282 – Tania Elosegui (ESP) 69 74 71 68, Lee-Anne Pace (ZAF) 68 72 72 70, Carlota Ciganda (ESP) 71 70 74 67, Esther Choe (USA) 70 69 73 70
283 – Sophie Sandolo (ITA) 69 70 75 69, Diana Luna (ITA) 72 72 70 69, Ashleigh Simon (ZAF) 70 73 72 68, Henrietta Zuel (ENG) 73 72 71 67, Gwladys Nocera (FRA) 70 73 71 69
284 – Florentyna Parker (ENG) 69 69 77 69, Nontaya Srisawang (THA) 71 69 72 72
286 – Hannah Burke (ENG) 70 70 73 73, Rebecca Artis (AUS) 69 76 72 69
287 – Connie Chen (ZAF) 72 72 75 68, Laura Davies (ENG) 69 70 77 71, Rebecca Hudson (ENG) 71 73 72 71
288 – Melissa Reid (ENG) 74 69 74 71, Stefania Croce (ITA) 72 71 77 68, Titiya Plucksataporn (THA) 74 70 73 71, Line Vedel (DNK) 75 70 75 68, Carly Booth (SCO) 72 69 77 70, Jessica Yadloczky (USA) 72 73 72 71, Veronica Zorzi (ITA) 68 74 74 72, Holly Aitchison (ENG) 73 71 72 72
289 – Caroline Westrup (SWE) 73 73 70 73, Charlotte Ellis (ENG) 72 71 76 70, Valentine Derrey (FRA) 74 71 73 71, Joanna Klatten (FRA) 69 69 72 79, Lucie Andre (FRA) 73 72 73 71
290 – Elizabeth Bennett (ENG) 69 74 76 71, Celine Palomar (FRA) 71 67 73 79, Carmen Alonso (ESP) 71 75 73 71, Miriam Nagl (DEU) 68 74 74 74, Anais Maggetti (CHE) 69 73 75 73
291 – Pamela Feggans (SCO) 75 71 70 75, Rachel Bailey (AUS) 73 70 74 74, Danielle Montgomery (ENG) 71 74 74 72, Julie Greciet (FRA) 69 72 76 74
292 – Beth Allen (USA) 73 71 76 72, Cassandra Kirkland (FRA) 71 70 77 74, Tandi Cuningham (ZAF) 75 71 71 75, Rebecca Codd (IRL) 72 73 73 74, Lydia Hall (WAL) 70 74 69 79
293 – Frances Bondad (AUS) 69 74 78 72
294 – Bree Arthur (AUS) 74 70 78 72, Sara Beautell Largo (ESP) 70 71 78 75, Malene Jorgensen (DNK) 70 74 75 75, Maria Ohlsson (SWE) 73 72 70 79
295 – Barbara Genuini (FRA) 72 74 76 73, Monique Smit (ZAF) 72 72 75 76, Margherita Rigon (ITA) 71 75 76 73
296 – Carin Koch (SWE) 70 74 76 76, Kylie Walker (SCO) 73 72 79 72, Georgina Simpson (ENG) 73 71 77 75, Clare Queen (SCO) 73 72 74 77, Sophie Walker (ENG) 73 71 76 76, Sophie Giquel-bettan (FRA) 77 69 76 74
298 – Laura Cabanillas (ESP) 71 75 79 73
299 – Dawn Shockley (USA) 70 74 76 79
Further information:
Bethan Cutler
Media Manager
Ladies European Tour
Mobile: +44 (0)7980056045
E: [email protected]
www.ladieseuropeantour.com