Whether you are an avid golfer, with a strong passion for the sport, or simply like to enjoy a few relaxed rounds while on holiday, we're happy to say that Tenerife is the perfect destination for a golf holiday. With a year round warm, sunny and spring-like climate, the conditions are absolutely perfect almost everyday of the year. Unlike much of the rest of Europe and most other places in the world, here in Tenerife you generally won't have to worry about extreme weather conditions.
If you have a round of golf planned for the next day you can almost be guaranteed of great conditions whether you are here in Spring, Summer, Autumn or Winter. By contrast, in somewhere like the UK, the weather can be so unpredictable so you never know quite what to expect. In addition to this, unlike some of the other Canary Islands such as Lanzarote, Tenerife has far less wind, meaning one less annoying factor to worry about. Instead you can just concentrate on enjoying a great round of golf amongst gorgeous surroundings. You will be able to enjoy stunning ocean views, palm tree lined courses and the sublime natural beauty of Tenerife such as the incredible volcanic landscape!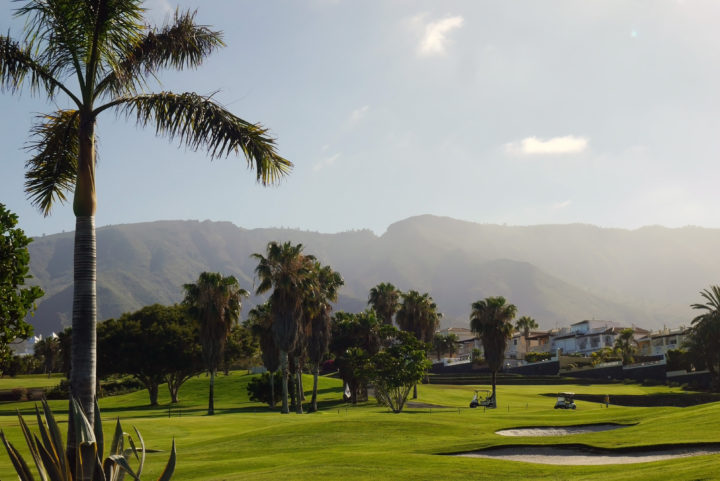 At present Tenerife has nine golf courses (two of which are nine hole courses) so there is plenty to choose from. This includes both the North and South of the island with a real variety in styles and design, plus varying difficulty levels and terains across the different courses that Tenerife has to offer. This is yet another reason why Tenerife is a perfect destination for a golf holiday.
Courses in the South of Tenerife:
Golf Del Sur

Golf Las Americas

Amarilla Golf

Golf Costa Adeje:

Abama Golf

Los Palos Centro de Golf

Courses in the North of Tenerife:
Buenavista Golf
Graphic definition of happiness Come on, it´s Friday! https://t.co/kWpcU6Sfed pic.twitter.com/nZR86L1HnK

— Buenavista Golf (@buenavista_golf) August 18, 2017
Golf La Roselda

¡Buenos días, Golf! pic.twitter.com/YCgsQobQxl

— Golf La Rosaleda (@rosaleda_golf) December 13, 2013
Real Golf de Tenerife
If you are thinking of investing in property development in Tenerife then make sure to take a look at Andreas & Partners website. Alternatively, if you are planning to move to Tenerife or buy a holiday home or property for rental here, then take a look at the Second Home Tenerife website and Top Immo Teneriffa website.