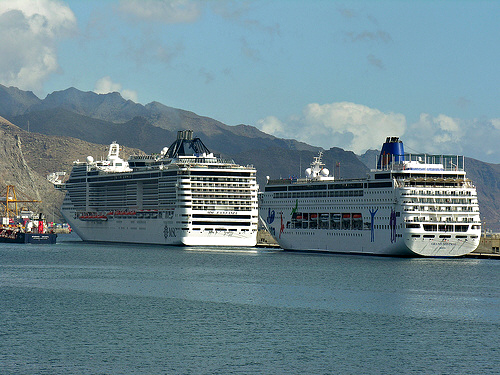 If you wait long enough history is sure to repeat itself. For hundreds of years Tenerife was an important trading hub for sailing ships as they introduced new tastes and experiences across the globe. That spirit of adventure is back in Santa Cruz port again but this time with ample rations of comfort and style as cruise ships welcome aboard a new generation of adventurers.
The walkway from the docking area to the city centre has taken a good pounding over the last year as ships pull in four or five at a time. January 2012 saw records tumble as 16 ships unleashed 44,000 visitors and another 28,000 called in during Carnaval week, it seems people can't get enough of luxury cruises. Tenerife is not just a stop off point, many cruises start and end in Santa Cruz and another ship is about to make a temporary home here.
Braemar is part of Fred Olsen Cruise Lines and has traditionally had a winter base in the Caribbean, but from January to March 2013 it will be rubbing shoulders with its owners well known inter-island ferries. Cruises will run from seven to 14 days and take in Senegal, The Gambia, and the Cape Verde Islands. Sounds like a great way to combine two types of holidays; sort some cheap return flights to Tenerife and have a few days here either side of a voyage of discovery. Many Brits with homes in Tenerife use their base to test the waters with a five day jaunt to one of the other Canary Islands, Madeira, and Morocco. A specialist travel agent like The Cruise Line is a good starting point if you want to see what's on offer.
Ship spotting has become quite a popular diversion in Santa Cruz. The big new names like the Queen Elizabeth and Queen Mary 2 always attract crowds but there's something majestic and proud about all the visitors that call in, and the background of the Anaga Mountains makes for great photos. Even with just a day to discover Tenerife a lot can be crammed in. Santa Cruz will satisfy those shopping urges but liners also pre-arrange a series of coach excursions that take passengers from cabin to Mount Teide, La Orotava, Garachico and beyond.
Things have come a long way since those old creaking timber ships used to drop anchor in Santa Cruz. The world is now more accessible but there is still a hunger for new horizons. Luxury, leisure, and relaxation are on everyone's wish list and Tenerife is happy to be part of this new golden age of cruise ship holidays.