When people think of Tenerife, probably some of the first images that may spring to mind are sunshine, sandy beaches and the ocean. It's also quite likely that they picture themselves sunbathing on the beach or having a refreshing swim in the beautiful blue water, then later enjoying some tapas and a drink (or two) at a nearby beach bar. This is the Tenerife that many know and love, thus leading over several decades to the island being one of the most popular year-round tourist destinations in the world.
If you think you know Tenerife based on a beach holiday or two, or maybe some photos you've seen online, then you might be quite surprised by the fact that it is also a destination filled with fascinating culture. Yes, you read that right! Tenerife is not only a place for sun worshippers and families looking for a cheap getaway, but has a rich cultural and historical heritage that is just waiting for you to discover.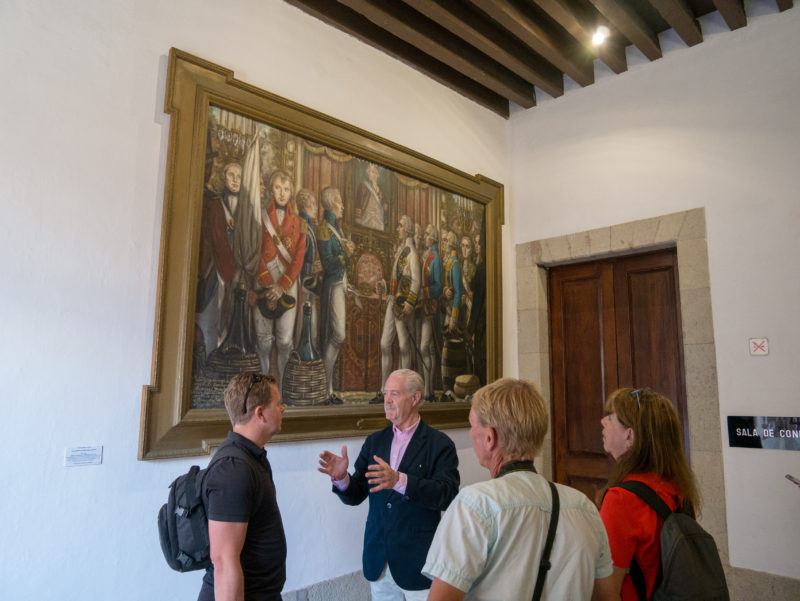 While the island will always be an amazing place for those seeking a year-round warm sunny climate, top-quality excursions and attractions for all ages, breathtaking beaches, excellent resorts and hotels and amazing places to eat and drink, it should also certainly be considered as somewhere for those who enjoy immersing themselves in culture.
This doesn't have to be for the whole trip of course, but can certainly be combined with other aspects of your holiday. Perhaps one day you may want to enjoy a day at the beach and then the next experience the more cultural side of Tenerife.
You don't just need to take our word for it though, as there are tours to be taken which will help you fully appreciate and take in some of the unique aspects of Tenerife's rich history. One such tour that our team recently enjoyed was with the highly knowledgeable, engaging and entertaining Jorge F. Ballesteros and his brand new company Living Tenerife Tours.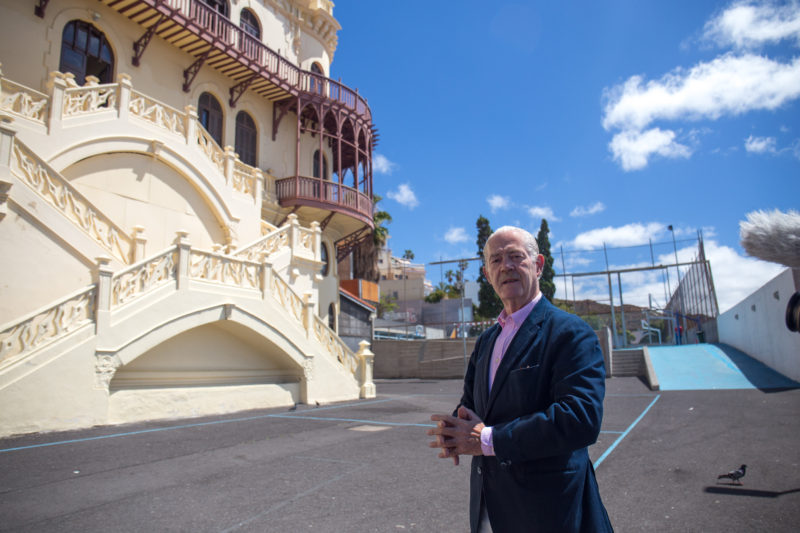 Jorge is a native of Tenerife and was born and raised on the island, and now lives in the north which if you decide to take one of his tours, focused on the upper half of the island, you will be able to fully appreciate is very different to the southern half.
During his school years, Jorge was sent several times during his summer holidays to different locations within the UK including to the lovely Hampstead in London, to study and improve his level of English. During this time he also developed a keen interest in British culture and history.
So while Jorge was born and raised in Tenerife, he speaks English to an excellent level including with what could be considered a fairly "posh" accent. This certainly suits the exclusive and unique style of his tours, and the information that he offers to his guests, perfect for English speakers looking for something quite different from typical, cliched trips that can be booked here. His tours will be of particular interest to British tourists as they explore the longstanding links between Britain and Tenerife, many of which have been amicable, some of which less so, as you will discover!
The particular tour taken by our team, some local British writer friends based here on the island, and another Canarian guest who works within the travel industry, was a fascinating cultural and culinary trip around the stunning capital city of Santa Cruz, located in the north of Tenerife.
While there is certainly some interesting history and culture across almost all parts of the island, if you want a true taste of the real Tenerife, then you need a trip to Santa Cruz and this excursion offers the perfect opportunity to discover some real hidden gems, even if you have already visited before.
What you will certainly notice about Santa Cruz is that it seems a world away from the modern tourist resorts of the south such as Playa de Las Americas and Costa Adeje. It might seem ironic to head to Santa Cruz to learn about the British connection with Tenerife.
You will see though, that despite what some may believe, British people didn't simply start arriving in Tenerife (and the Canary Islands) with the advent of cheap flights and package tours, but instead have been heading here for hundreds of years, albeit for different reasons.
Our tour began in the morning after we met with Jorge outside of the Real Casino de Tenerife, an exclusive private members club with a fantastic location within Santa Cruz. The large and impressive building is to be found very close to the Plaza de Espana, one of the many iconic features of this beautiful city.
From here we met with our driver for the tour who lead us to the nearby mini-bus that we would be transported around on. Jorge had promised an exclusive and luxurious experience and this was immediately apparent from the quality of the vehicle. This wasn't just a typical tour bus but a stunning brand new luxury Mercedes Benz vehicle.
The outside was gleaming in the sunlight which had started to heat up the day quite considerably. Not to worry though, as inside was fully air conditioned providing a perfect temperature for our tour. The bus was spacious and extremely comfortable, with high quality leather seating. This felt more like sitting on a private plane than a tour bus! 
Today we are out and about with @ToursLiving on an exclusive historical tour of #SantaCruz #Tenerife pic.twitter.com/4F9n1jKUqi

— Tenerife Magazine (@TenerifeMag) June 6, 2018
Our friendly driver and Jorge sat in the front of the vehicle and then there was seating available for an additional 12 passengers. There were only 6 of us on the tour so we had a huge amount of room. With Living Tenerife Tours, the aim is to always keep the size of the tour groups smaller and more intimate, rather than large, noisy groups, thus definitely another contrast to some of the other tours on the island!
There were drinks on board and during future tours there will relaxing music. This really was a brilliant way to start our journey around the city. It also provided an interesting contrast between this modern, luxurious minibus and the historical and cultural views and information.
During our tour around Santa Cruz, Jorge imparted a significant amount of cultural and historical knowledge over to us that he had built up over many years of studying the history of the city and island, and his strong interest in the many unique areas of the city that likely even many locals don't know about.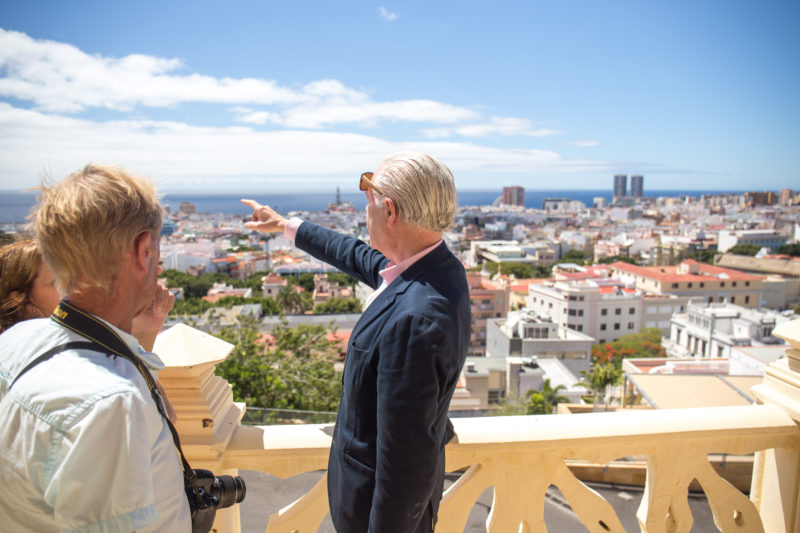 He explained to us how this vibrant and fascinating port city and capital of Tenerife was founded in 1494 by the Kingdom of Castille, and  although initially it began as a small fishing village, over time due to its excellent location it became transformed into the most important and fortified port in the Canaries, becoming the main sea route between Spain and the West Indies.
You will see if you choose to take this tour that Santa Cruz has a grandeur and splendour not found in much of the rest of the island, especially in the southern modern tourist hot spots. This is owing to it being the capital city of Tenerife since 1723 (previously the capital was neighbouring city La Laguna) and co-capital of the Canary Islands, a title it shares with Las Palmas de Gran Canaria (although it was the sole capital of the islands from 1833 until 1927).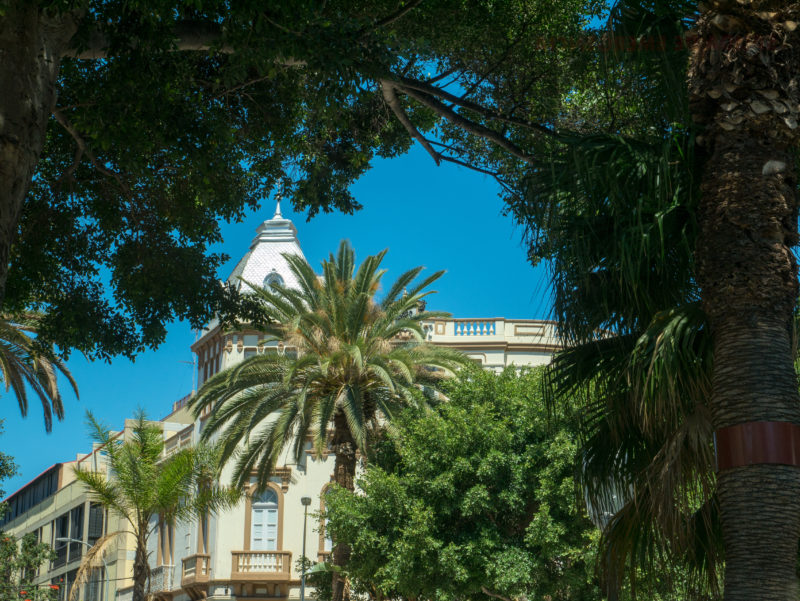 Due to its historical and modern importance the city has a significantly impressive level of architecture and now surprisingly has the sixth highest building level height of all Spanish cities. On top of this, in a 2012 article written for The Guardian newspaper, Santa Cruz was ranked as one of "The five best places to live in the world, and why"!
As the article points out, rather humorously, and as mentioned earlier in this post, this is certainly not the Tenerife you think you know. As opposed to many areas beloved by Brits and other nationalities in the south, Santa Cruz actually feels like you're in Spain.
As pointed out on our tour though, this city of around 200,000 inhabitants within its administrative limits (538,000 within the total urban zone), is more than just a wonderful place to live, or for enjoying a sightseeing wander to view the impressive buildings, park and other features, it is also a destination with a rich history and culture to discover. This includes the links between Britain and Tenerife that stretch back centuries, way before the modern influx of British holidaymakers.
During our tour we learned about the peaceful and fruitful connections that grew between Britain and Tenerife in terms of trade produce such as tomatoes and bananas, and the much more aggressive history that preceded that in which British naval captains attacked Santa Cruz, including 2 attempts to conquer the island. The inhabitants remain proud of their city which was able to remain undefeated despite these various invasion attempts from Britain. several centuries ago.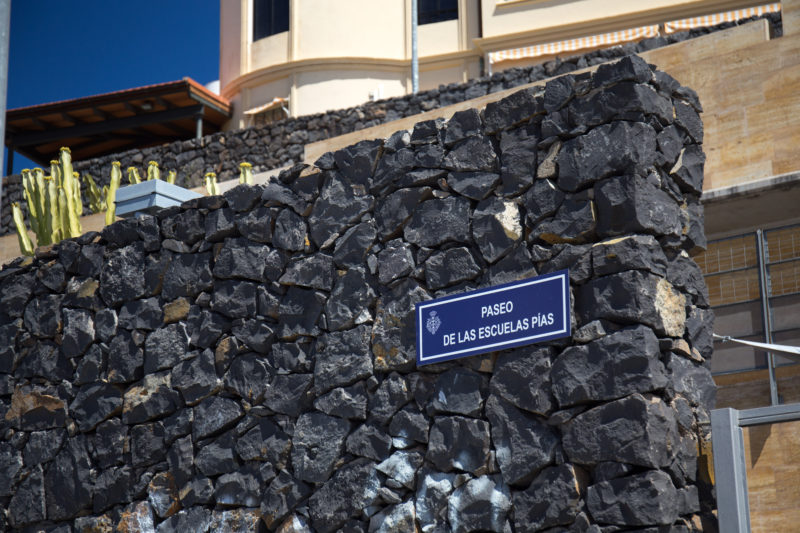 The first place we stopped off at during our tour of the city was at a beautiful building constructed in the 19th Century by a man named Henry Wolfson with a fascinating story. He was originally born in Russia, but emigrated to Britain at a young age, and became a British citizen to escape persecution of the Jews there in the late 18th Century.
Subsequently he decided to move to South Africa but on route he stopped off in Tenerife by chance and decided to stay after seeing the significant business potential there, and his immediate fondness for the island. While in Tenerife he enjoyed many entrepreneurial successes during his life in Tenerife, including becoming one of the first businessmen to export tomatoes from Tenerife to the UK. This proved to be a lucrative business which made him quite wealthy.
Among other enterprises, he later bought the biggest plot of land in Adeje to cultivate the production of bananas and tomatoes there for export, plus also created the first gas company on the island, the Tenerife Gas & Coke Co. Due to all of these endeavours he became a highly respected businessman on the island.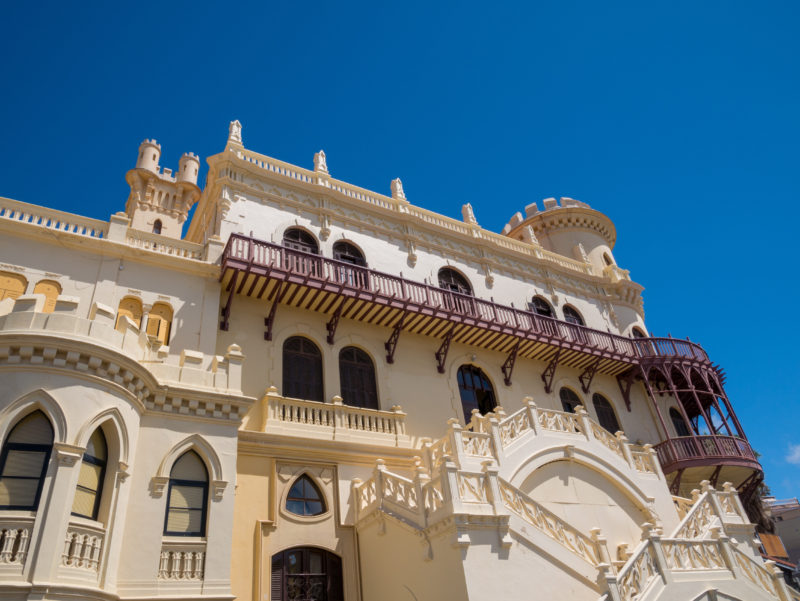 The building we visited is now one of the most esteemed educational centres in Santa Cruz, the Escuelas Pías which is where Jorge studied various subjects including English, where he developed his keen interest in the language.
Originally though, this building was constructed by Wolfson as a palace to live with his wife, Jane Mariner, but sadly she passed away before they were able to live together there. Following her death, he decided to change the house into a hotel which he named Hotel Quisisana, an Italian name which was popular at the time for hotels related to health and rest.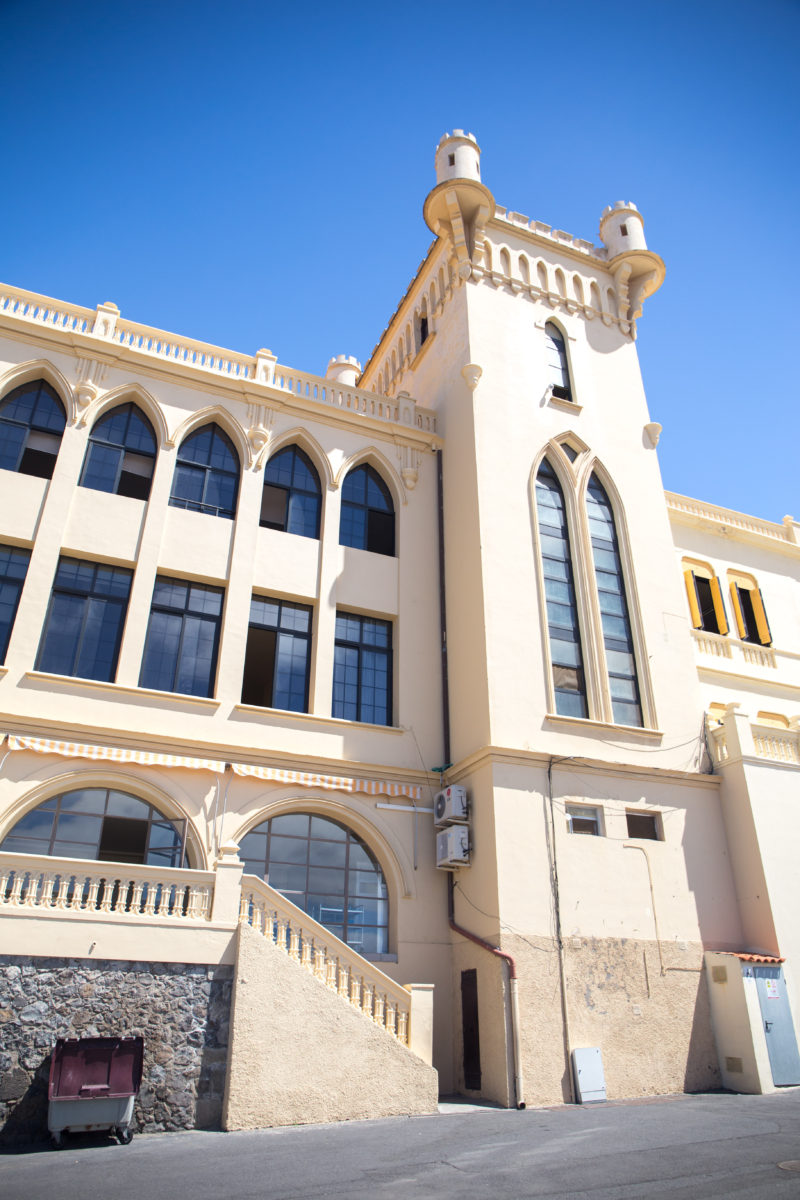 During the successive world wars and Spanish civil war the building became severely damaged and was closed as a hotel and sold to the local authority. It later became what it is today, an educational centre. Quite the transformation from palace, to hotel to school. As you can see the building still looks splendid and enjoys some of the most impressive views in the city.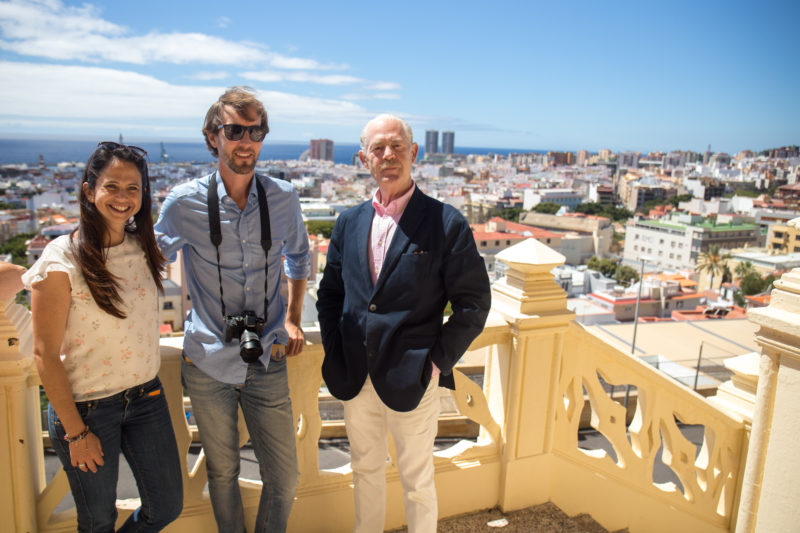 Following this stop we set off on our journey in the luxurious minibus around the city, as Jorge continued to impart fascinating stories such as the fact that in Santa Cruz General Francisco Franco organised the national uprising that led to the Spanish civil war in 1936. He also pointed out information about various buildings along the way such as the British Hotel which is one of the most attractive buildings in the city.
It was once known as the Battenberg hotel as a tribute to the King of Spain, Alfonso XVIII's wife Ena Battenberg, granddaughter of Queen Victoria, but it's name was changed to Mountbatten due to George V's decision during World War I to change all German names of all the members of the British royal family.
We also had a quick stop off at the attractive Saint George Church which was constructed to serve as a place of worship for the significant community of British people who were living in Santa Cruz by the middle of the 19th Century. Once again this goes against what many people know of British inhabitants in Tenerife, because as opposed to now where most British expats reside in the south of the island due to the sunnier and warmer climate, two centuries ago most of the British in Tenerife were living in Santa Cruz and Port of La Orotava (now Puerto de la Cruz), for economic and trade purposes.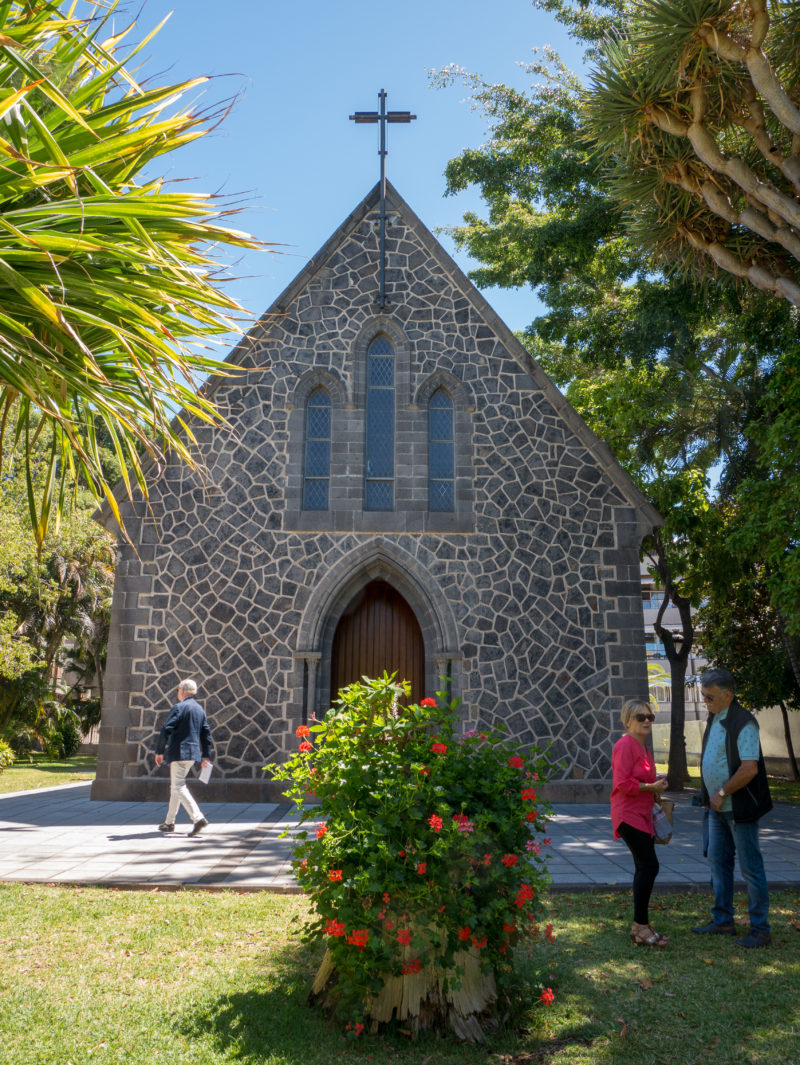 The church remained an Anglican church from when the first stone was laid in 1897 right through to 1990 when it was sold to the Catholics, on condition that Anglicans could still use the church for worship. As you can this is certainly an attractive church to go to for worship, or simply to take some photos!
We then continued onwards to the Regional Military Museum of the Canary Islands (Museo Militar Regional de Canarias) to find out about the other side of the British connection with Tenerife. As Jorge had mentioned earlier on the tour, on three separate occasions Santa Cruz had been attacked by British ships.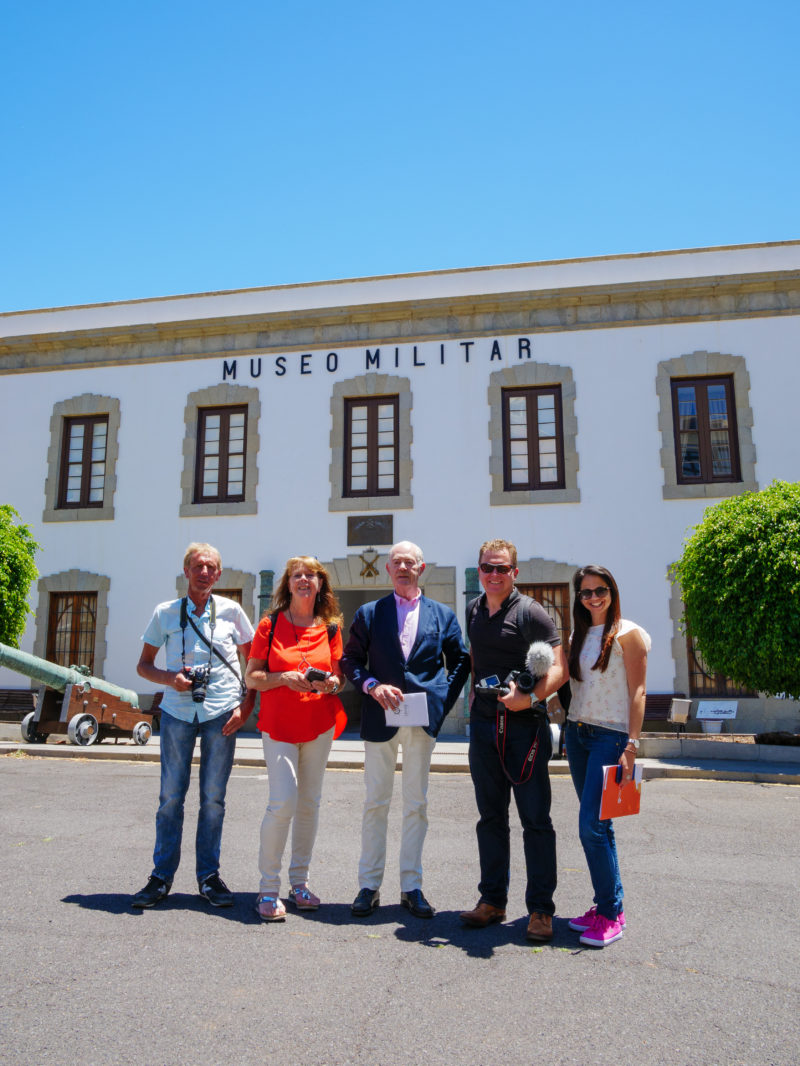 On 20th April 1657 23 British ships sailed into the port of Santa Cruz led by Admiral Robert Blake on board of the flagship HMS George. He had received orders to steal a large cargo load of silver and gold from Spanish ships that had been forced to shelter in Tenerife, due to the British blockade of the Port of Cádiz.
While Blake had been able to sail into the port and destroy 12 Spanish ships and capture five more which he subsequently ordered the destruction off due to heavy gun fire, he was unable to steal the treasure as it had been taken well ashore two weeks before. Despite his overall failure, Blake was hailed as a hero by Cromwell; while in reality it had been a success for Santa Cruz and Tenerife against the British.
On 6th November 1706 a small Royal navy fleet commanded by Rear Admiral Sir John Jennings on board of his flagship HMS Saint George sailed into the port of Santa Cruz, with the intention of actually conquering the island. Again though, this was a failed attempt with Jennings and his fleet being forced to withdraw and retreat.
The most serious of the three British attacks came from the most famous of  all British Naval heroes, Admiral Horatio Nelson in 1797. During our visit to the Military Museum which started its life in 1854 as a military fort to protect the shoreline from attacks, we learned about the attempted invasion by Admiral Nelson.
Inside the museum there is a rather fascinating historical display of Santa Cruz with models of all of the British and Spanish ships, with a detailed commentary of the battles that ensued and lights to help you pinpoint exactly where these happened. The level of detail that has gone into this model is excellent and it really helps you to understand what happened.
This display and the memorabilia of this time including guns, uniforms and the flags from the ships, really help to illustrate how much times have changed. It seems incredible to think that back in those days Britain was attempting to conquer and overthrow Tenerife and just shows how far British and Spanish relations have changed over the centuries. The Canary Islands have experienced a kind of British invasion in recent years, but thankfully only of the touristic side which has strongly boosted the economy of these islands.
We saw many interesting things on display such as the flag from Nelson's ship which as Jorge pointed out is different from the modern day Union Jack because it only represented the flag of England (St George's Cross) and the flag of Scotland (St Andrew's Cross) combined. It wasn't until 1801 following the union of Great Britain and Ireland that the Union Jack flag came into use, after the attack of 1797 by Nelson's ships.
We also saw the coat of arms of Santa Cruz which displays three black lion's heads to represent the three British attacks on Santa Cruz. Ultimately just like the two previous attacks, Nelson suffered defeat and it was also during this attempt to conquer the islands that he was shot in the arm, leading to it needing to be amputated.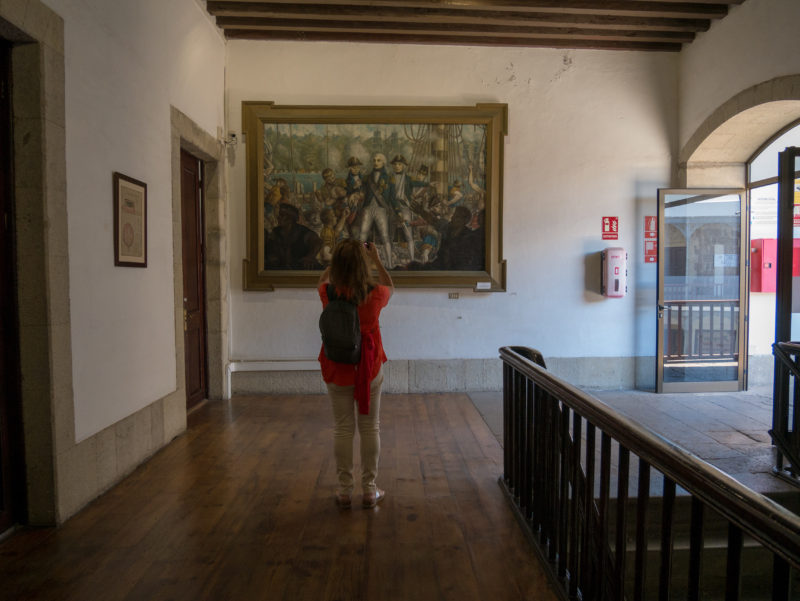 Inside the museum you will see many different types of uniforms, weapons, pictures, flags and information about various battles. Outside there are some huge cannons which were used to defend the city from invasion attempts plus more modern weaponry such as helicopters and tanks.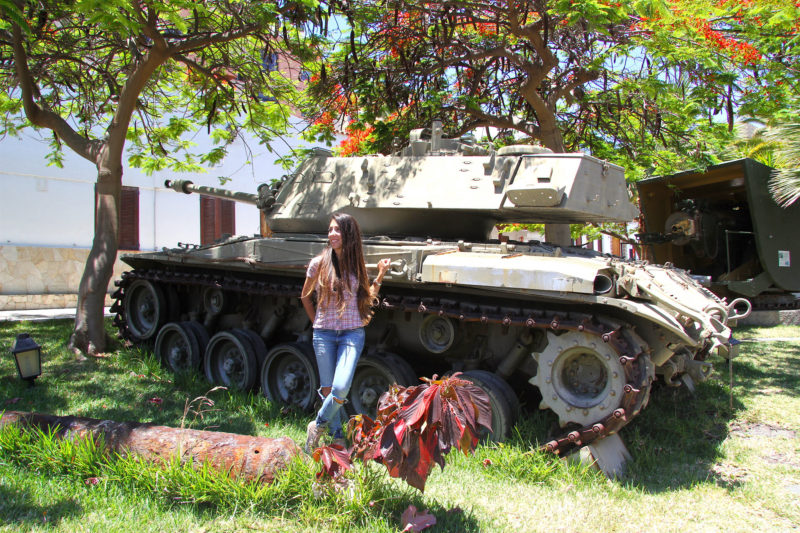 Following our tour of the museum it was time for the culinary part of the tour, but not before a quick stop at one of the most iconic buildings in Santa Cruz and Tenerife, the Auditorio de Tenerife – Tenerife Opera House which has a certain resemblance to the Sydney Opera House with its incredible design!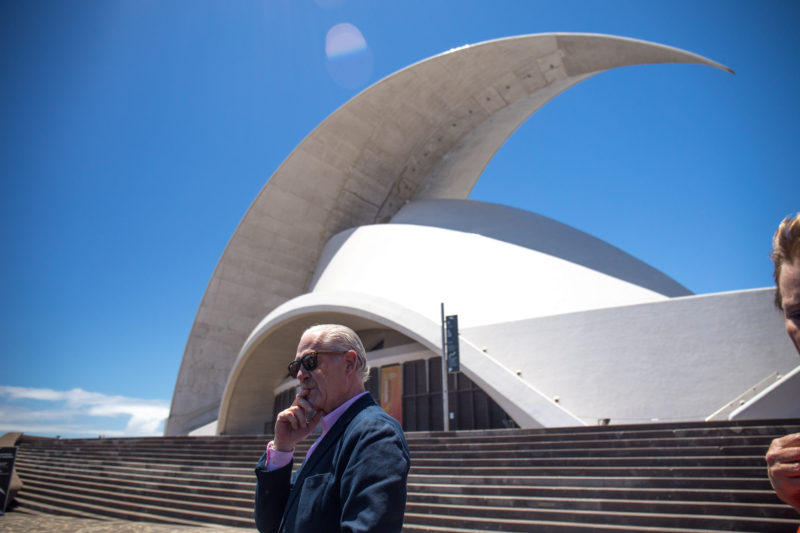 We we were then driven back to the Plaza de Espana and said goodbye to our driver. We wandered from here back to the Real Casino de Tenerife. Inside the building Jorge first gave us a brief tour around to fully appreciate how impressive it is and also to be able to take in the incredible views out over parts of the city, including the Plaza de Espana. As this is a private and exclusive members only club, these are views that ordinary members of the public do not usually get to enjoy, unless of course you decide to take one of the Living Tenerife Tours excursions.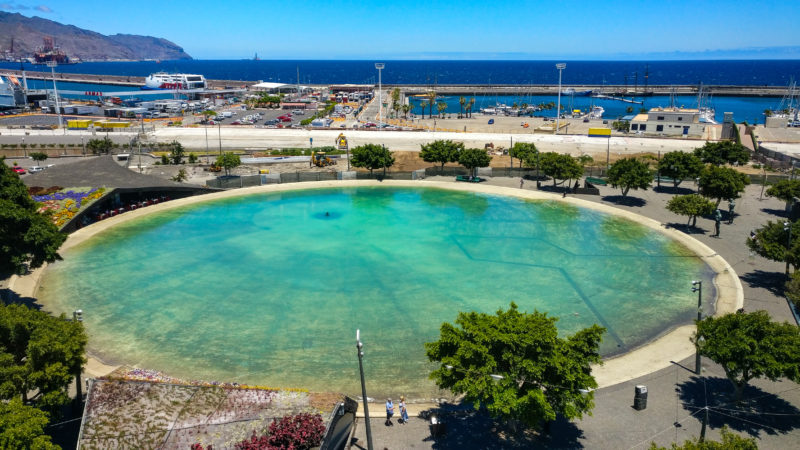 After a brief speech from Jorge in a large and impressive sitting room he thanked us all for attending his tour which we had all very much enjoyed.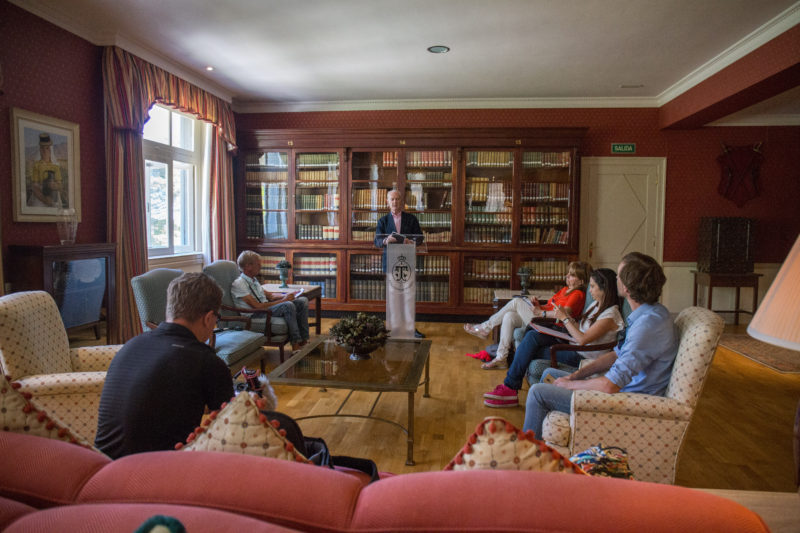 It was then time for the final icing on the cake in the beautiful dining room of the Casino; what can only be described as one of the most delicious meals I've experienced in not only the Canary Islands, but also anywhere in my life. There was a strong consensus on this from all of our group!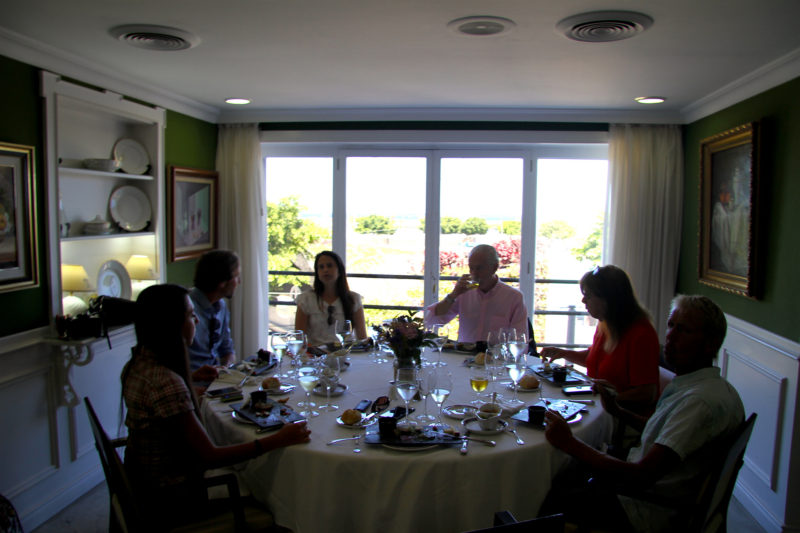 Views across Santa Cruz. Photo Credit: Kate Michelle ContiThis was true fine dining of a Michelin Star standard. What was also so great about the meal was it consisted of a selection of several courses showcasing some of the best local Canarian foods that the islands have to offer. This included a starter of award winning goats cheese from Fuerteventura with jam, the famous papas arugadas with mojo sauce, sweet gofio and fig, a fish dish for the second course, a main course of the popular Cochinillo Negro (a type of pork from locally reared pigs) and a delicious local desert.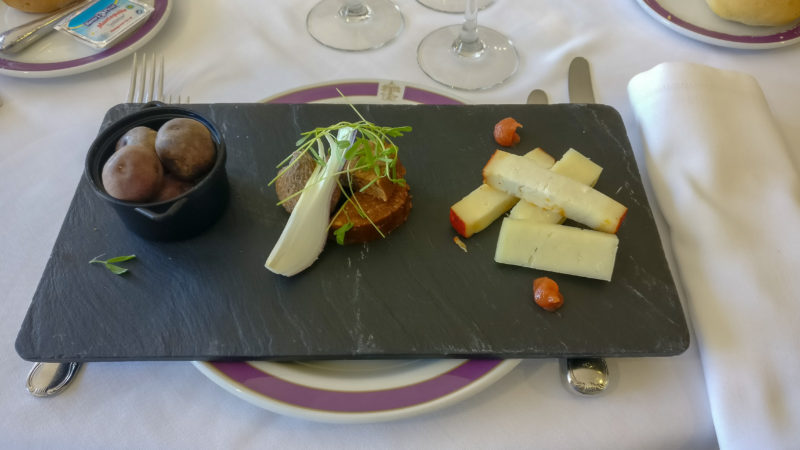 During the meal we were also served local wines from Tenerife of which the quality was excellent. Wines from the Canary Islands have been produced for many centuries and were even written about in some of Shakespeare's plays. They are now beginning to once again gain the international recognition that they rightly deserve as they really are of top quality.
This was a superb end to what had been a truly excellent exclusive tour, that really showcases some fascinating insights and sights in the stunning and city of Santa Cruz. This is Tenerife, but almost certainly not what you think you already know about the island. In fact you will see a totally different side to the island, and discover a British connection to Tenerife that you probably never realised existed!
All of us here at Tenerife Magazine would like to thank Jorge and Living Tenerife Tours for taking us on this excellent cultural and culninary trip around the city. If you are interested in booking an excursion with Living Tenerife Tours then make sure to head over to their website: www.livingtenerifetours.com
You can also follow the company via their social media channels for all their latest announcements: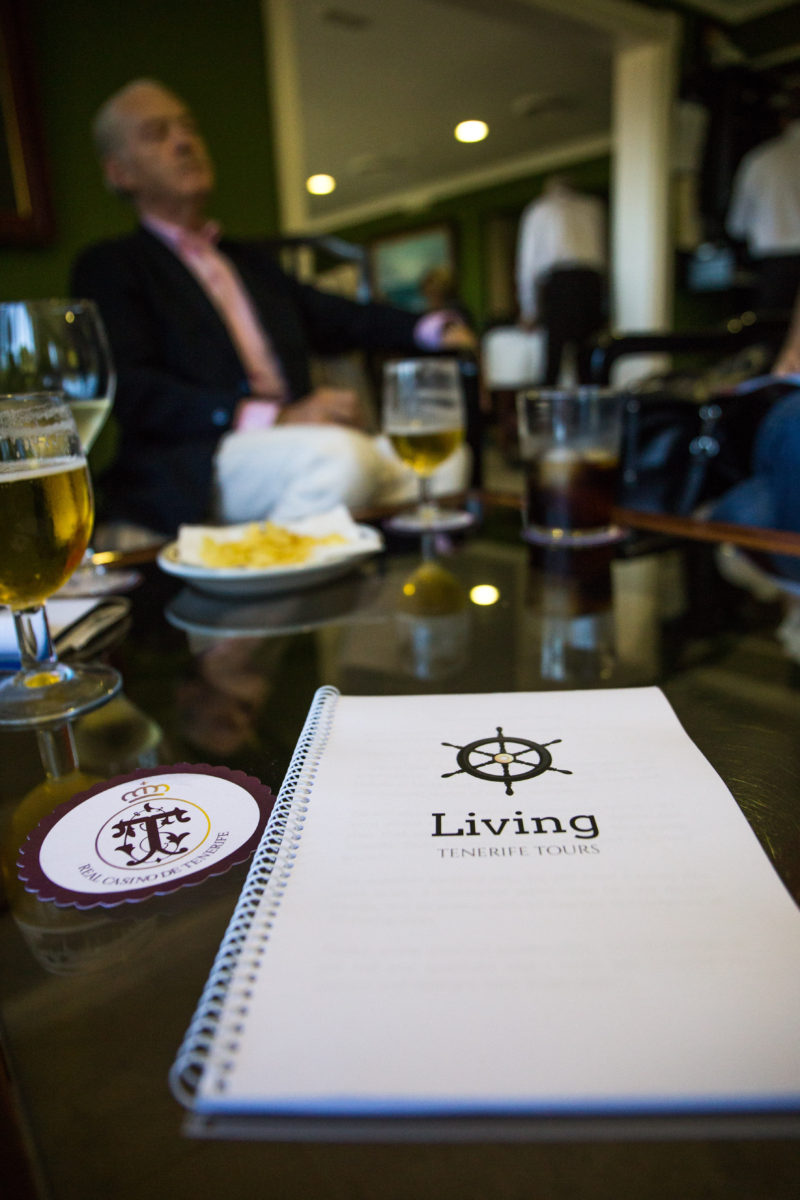 (Sponsored Post)
If you are thinking of investing in property development in Tenerife then make sure to take a look at Andreas & Partners website. Alternatively, if you are planning to move to Tenerife or buy a holiday home or property for rental here, then take a look at the Second Home Tenerife website and Top Immo Teneriffa website.