Are you planning a family holiday in Tenerife and are unsure of which hotel would be best to book? We know it can definitely be a challenge sometimes when you've got younger kids. Realistically you can't just think about relaxing by the pool yourself, you've also got to take into consideration how to keep the kids entertained, otherwise let's be honest they can turn your dream holiday into a nightmare! We think we've discovered the perfect place for your family holiday that we're sure you're going to absolutely love. Recently we enjoyed a weekend break at the gorgeous luxury 5* Hotel Suite Villa María located in La Caleta, Adeje in the south of the island, and we can't recommend it enough!
Fabulous weekend at @suitevillamaria #costaadeje #Tenerife pic.twitter.com/aQTwxOuADq

— John Dale Beckley (@JohnBeckley) July 7, 2017
This amazing hotel is very different from many others you may have been used to. Unfortunately while we often have high expectations of the hotels we plan to stay at on our holidays, the actual experience is often let down by the impersonal feel you are generally faced with. Instead of returning from a family break feeling relaxed and refreshed, by the end of many holidays, both parents and kids head back home feeling more stressed than when they arrived. This is because of the way that a typical hotel layout is structered, with too many people, too much noise and underwhelming surroundings. This time you won't need to worry about that problem though.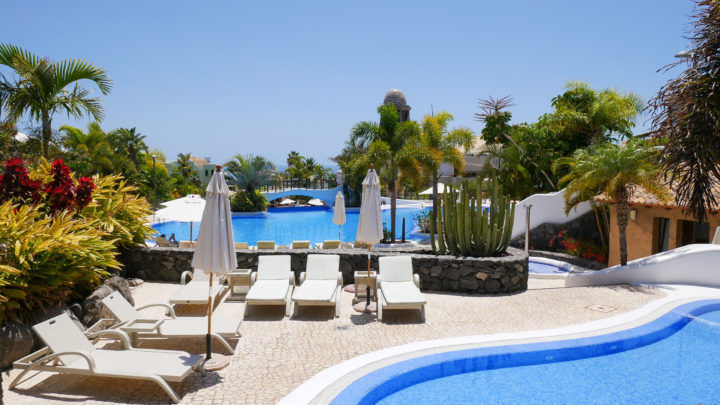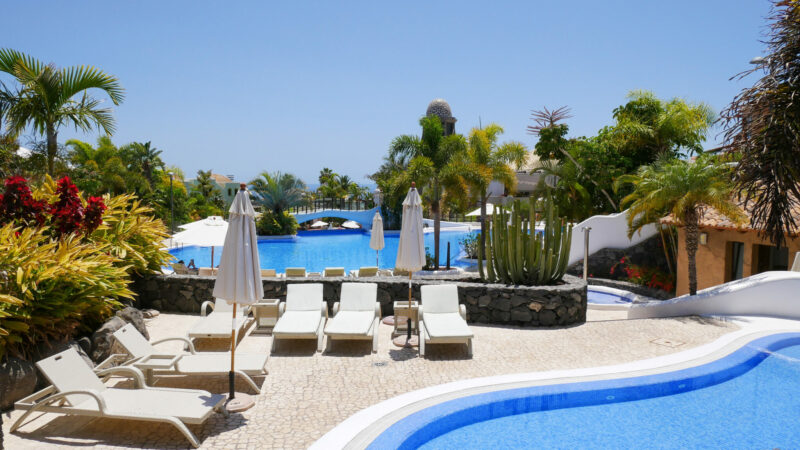 Instead, Hotel Suite Villa María has been designed with a totally different look and feel, with the architect aiming to replicate the style of a traditional Canarian village with separate villas that give you a real home away from home feel. Within your villa you can enjoy an amazing feel of peace and tranquility with your family and totally disconnect, forgetting any stresses from back home. These villas have everything you could possibly need with a seleciton of one, two and three bedroom options, plus the exclusive private Bellavista Villa for up to six guests.
Each of the villas have all you could need including fully equipped kitchens, air-conditioning, free wi-fi, a terrace and balcony, separate living rooms with televisions, modern bathrooms with a separate bath and shower and of course the comfortable bedrooms. Another excellent feature for families is that with either the one or two bedroom options you can choose the option of a private jacuzzi in the garden which we're cetain your kids will love to relax in during the evenings, after a day full of play. The three-bedroom villas and the Bellavista Villa even include private pools!
The hotel is located in La Caleta which is one of the quietest and most tranquil places within Adeje in the south of Tenerife. This is ideal as in this part of the island you will find a wide selection of amenities located conveniently close to the hotel including beaches, shopping centres and amazing atrractions such as Siam Park, the best water park in the world! Trips to Siam Park or the other nearby attractions can be arranged at the hotel with reception.
One of these fantastic trips is to see wild whales and dolphins in the ocean with Blue Jack Sail, an exclusive yacht excursion company based  at nearby Puerto Colon. While we stayed at the hotel, we went on one of their excursions which was amazing as we saw Pilot Whales and a pod of dolphins which swam alongside our boat, jumping in and out of the waves, putting on an amazing show. There was even time for a refreshing swim at the end of the journey. Overall this was amazing trip that the kids loved and we highly recommend!
What's more the hotel is set in a beautiful location surrounded by Golf Costa Adeje, with views out to the ocean and the vibrant area of Los Cristianos and Playa de Las Americas in the background.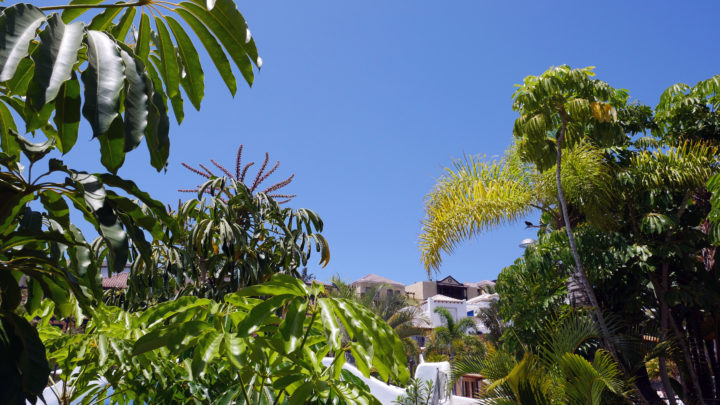 Of course you don't need to leave the hotel complex to have a great time with two large, gorgeous swimming pools in the centre with a waterfall separating them, and a smaller pool for smaller children. As the hotel is designed like a traditional Canarian town, with 78 villas throughout instead of rooms squashed together, everything feels a lot more spacious even during full occupancy. You can almost be guaranteed a sun-bed by the pool and plenty of room for swimming. It is the ideal environment for you to relax and enjoy yourself while your kids play either in the pools or the children's play areas with swings, slides and other features.
There are a number of great options for your meals which your kids will love. For breakfast there is an amazing buffet with a huge selection to choose from. Lunches can be enjoyed at our pool bar which serves many different favourite meal choices such as pizzas, burgers, pasta and more, plus ice-creams and cakes for desert. For your evening meal you can enjoy fine dining at La Torre Restaurant with an amazing fusion of international and cosmopolitan cuisine with their roots in traditional Canarian products and flavours.
There is plenty to keep your kids entertained and happy during your family holiday at Hotel Suite Villa María which in turn of course will allow you to enjoy your vacation. There is almost nothing worse than bored kids when you are trying to relax, because they will not stop letting you know how bored they are. A perfect holiday for kids is different in many ways to what adults have in mind, because kids, especially younger ones seem to have boundless energy. One of the most popular features of the hotel is the exclusive children's entertainment service, with a whole variety of different activities to keep your kids entertained and allow you perfect peace of mind.
So as we're sure you can tell we absolutely loved our family getaway as the fantastic Hotel Suite Villa María. If you're looking for a great place to stay for you and your kids then you should definitely book a stay. Make sure to be quick though as you don't want to miss your chance this summer!
Check out their website here and follow them on social media:
If you are thinking of investing in property development in Tenerife then make sure to take a look at Andreas & Partners website. Alternatively, if you are planning to move to Tenerife or buy a holiday home or property for rental here, then take a look at the Second Home Tenerife website and Top Immo Teneriffa website.