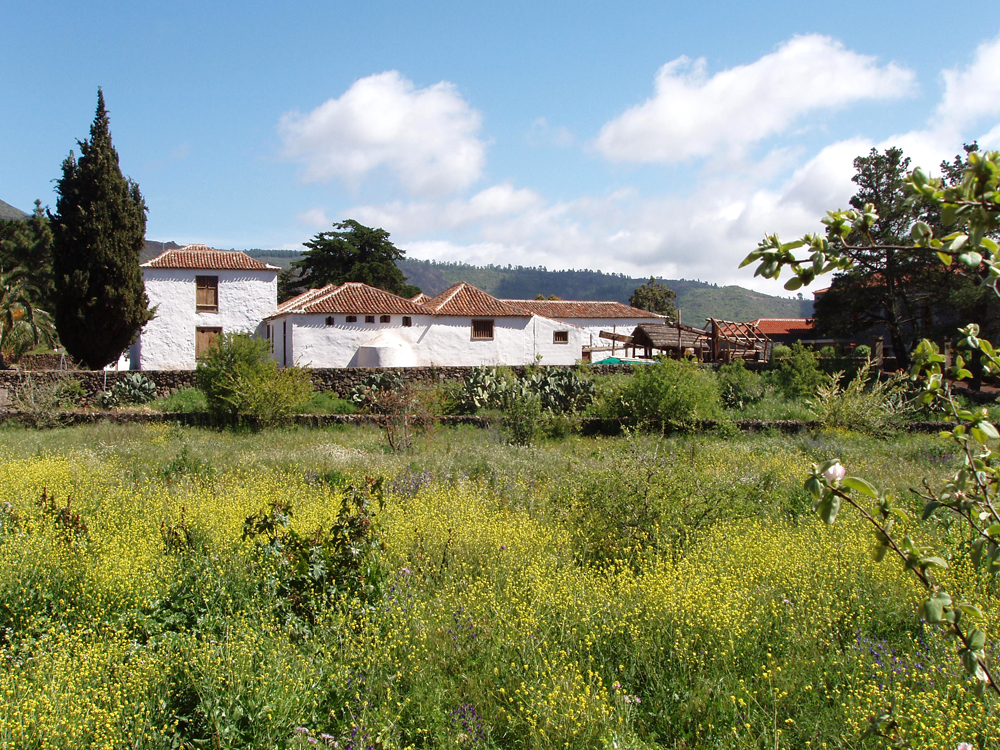 18th November 2009 was quite a momentous day in Santiago del Teide.
One hundred years ago to the day, Mount Chinyero erupted high up in the pine forests of the municipality. Nervously driving along interminable rock-strewn tracks designed for feet rather than wheels and waiting for one or more tyres to burst, I accompanied Tenerife's press and dignitaries to mark the occasion at the historic site .
Looking completely out of place amongst the frozen black lava fields that lie as testament to the island's last volcanic eruption, the posse of be-suited men and gold-shoed women struggled to negotiate the terrain to watch the unveiling of a plaque at the foot of the volcano. After the release of half a dozen doves we all trooped back to the vehicles to once more taunt tyre-bursting Gods on our descent back to Santiago del Teide.
Safely back at the pristine grounds of Casa Del Patio, I was finally able to explore the tantalisingly lovely building that has been under restoration and off-limits for many years and that yesterday was finally opened to the public. Including a permanent exhibition to Chinyero's eruption, it was a tardy but timely finish to the project.
Home to the former Lord of the Manor, Fernando del Hoyo y Solórzano, Casa del Patio was built in the 1660s and up until the early 19th century was occupied by the feudal owners of Santiago del Teide. Now immaculately restored by the Council of Tenerife, it includes stables and a horse riding school; a shop selling traditional pottery, local products and wine; a beautiful Tasca with Canarian cheeses, hams, sausages and wines; and an elegant restaurant with a covered outdoor terrace looking out towards the volcano.
There are wine presses and a small bodega and plans are afoot, or should I say ahoof, to open horse riding trails. There's even rumour of a Canarian theme park.
And as if that isn't sufficient to entice anyone en-route to Masca to stop and spend a little time in this delightful town, a small rural hotel within the Casa del Patio is due to open its doors within the next few months.
Santiago del Teide is a glorious municipality for hikers, with trails crossing lush valleys and fragrant eucalyptus and pine forests as well as the walk to Chinyero itself which is through stunning surroundings. The downside has always been access to the town which is a lengthy business from just about anywhere on the island. But with a rural hotel in the town, the words cherry and cake will be on many people's lips.
A word of warning though. When Fernando del Hoyo was declared Lord of the Manor in 1663, his jurisdiction included the right to 'incarcerate, hang, spike the heads of, garrotte, whip with a cat-o-nine tails, cut off extremities or set free any or all miscreants and lawbreakers". Three centuries may have passed but in many ways the picture postcard town hasn't really changed all that much. If I were you, I'd be very nervous of parking on double yellow lines.
Casa del Patio, Santiago del Teide; tel (0034) 922 104 913; email [email protected]; www.senoriodelvalle.com; wine museum open 8am – 6pm.