With so many beautiful parts of Tenerife to explore, this time my selection was Los Cristianos, where I was on the look out for some good tapas. Yes, proper tapas like what the local people eat and not tourist labelled tapas which has an overcharged price tag attached to the menu.
Los Cristianos is such a stunning area of beautiful beaches, sand and plenty of restaurants.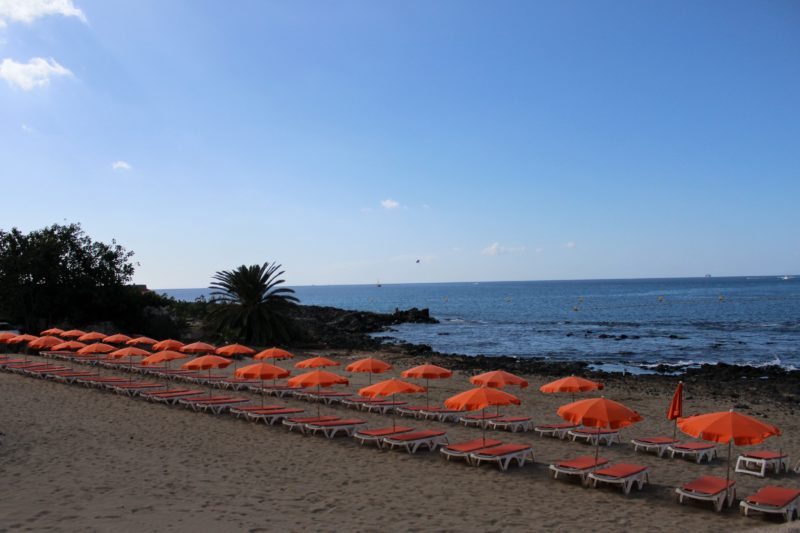 Heading along the beachfront, I decided to go off the main beach walk area and towards the bus station. Local people know that good, authentic tapas are cheaper and better away from the main tourist areas. Luckily, a local friend had told me about a cafeteria, Casa Goyo which was on my list to try out and they were based in Los Cristianos. What was I waiting for? Off I went in search of this restaurant to check out the quality and price of the tapas.
Tip No 1 – open your options to looking away from the beach front and travel more inland or better still, the local garages serve great tapas and drinks with very reasonable prices.
CASA GOYO
True to form, the caféteria had local people taking a coffee and tapas so I knew that the price would be good to my purse and the quality should be on par with what I expected, but you never know until you try it.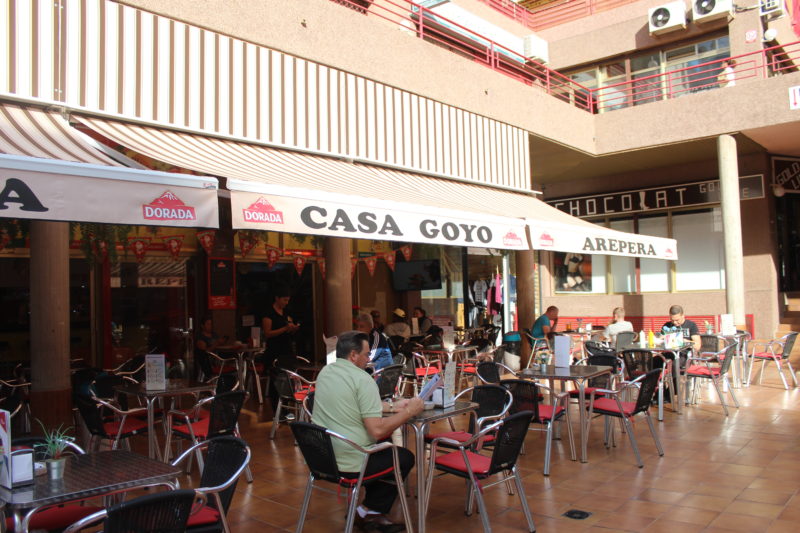 Casa Goyo which is situated in Bulevar Chajofe, 3, 38650, Los Cristianos. It was a nice sunny morning and a week before Christmas. Heading into the cafeteria, the brightly glowing interior colours of orange and yellow, gave me a happy feeling to this place. Instantly I thought that the orange walls matched the beautiful shades of the parasols down at the playa and the yellow contrast matched the glowing sun which was out in full force that day
Spotlessly clean and typical of a local Canarian style cafeteria, I instantly knew that the tapas were going to be the real thing.
Tip No 2 – look for a caféteria or bar in which the locals eat to ensure you get the authentic Canarian style food.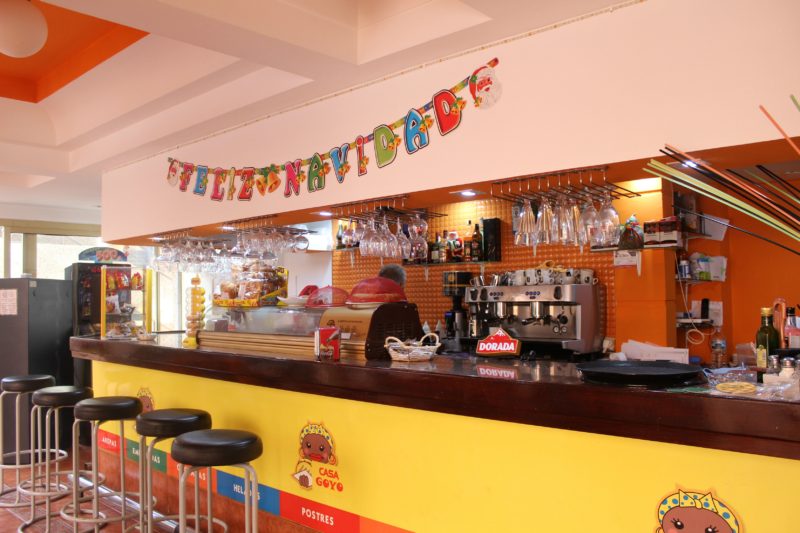 Usually, a standard selection would be around 6 tapas and this would range from Tortilla, Meatballs, Chicken thighs or drumsticks in a sauce, croquettes, ensaladilla, Octopus or Beef, potato & chickpea stew. There will be other types of tapas as this depends on the cafeteria or bar.
Sitting myself down outside among the local people, I was greeted by a nice waitress who spoke a little English but as I knew what I wanted, it was easy to order my 2 tapas selection. For me it would be Tortilla (Omelette) and Ensaladilla (Potato Salad).
One of the good points when ordering tapas, you don't have to wait long for your food. Sipping my refreshing Fanta Lemon (a must if you go to Tenerife), true to form, my food arrived quite quickly and certainly not to the meaning of the word 'tapas'. The portion was huge and far too much for me to eat alone but I gave it a good go and tucked straight into it.
Tip No 3 – always go into the bar area and take a look at the selection of tapas available. Ask what they have and check with croquettes as sometimes the potatoes can be mixed with chicken or fish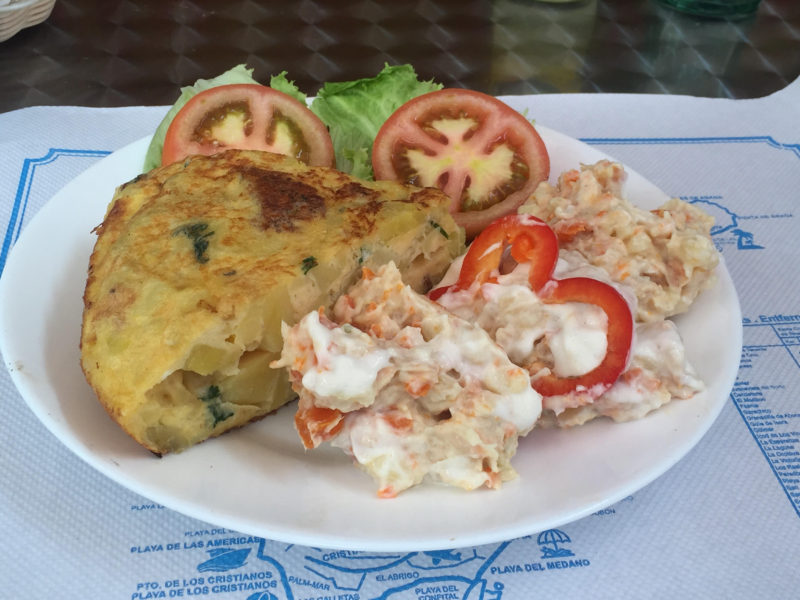 All fresh products, healthy side salad and the tomatoes are one of my favourites 'must eat' when holidaying in Tenerife. The tortilla was packed with seasoning and potatoes and a great choice for any vegetarian.
Again, the ensaladilla was a perfect choice but unfortunately my efforts were not that good as I only managed to eat half.
Tip 4 – by finding a proper Canarian tapas cafeteria, you should save on price and increase in portion size
You don't just have to have tapas, there are plenty of other tasty dishes on the menu for instance Paella or you could just order a sandwich and coffee to keep you on the go (which I did on another day, just to try out other options).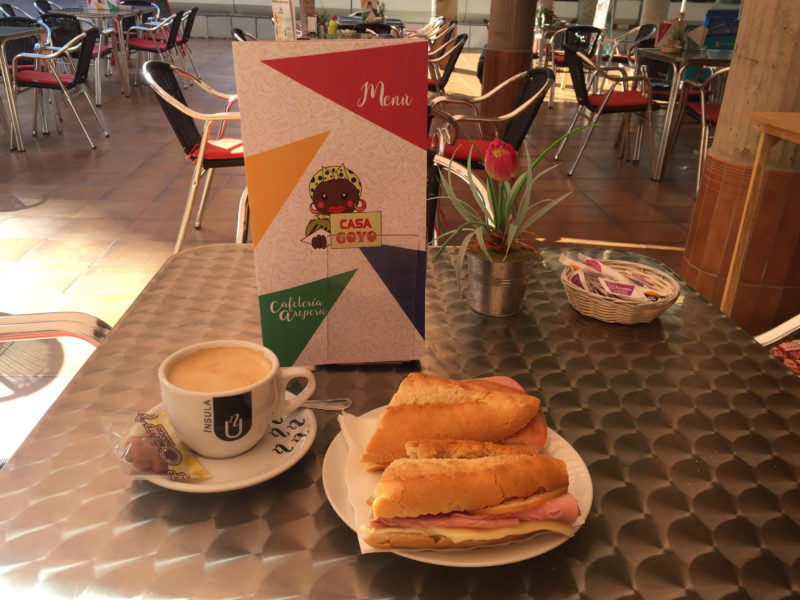 One thing that is important is, to get out of the hotel and take a walk around, see the area and support local businesses. It can be difficult for them to compete against the 'all inclusive hotels' and therefore they appreciate you stopping by, even if it is just for a drink and a friendly 'hola'.
Finding a local tapas cafeteria or bar is certainly one of the cheapest options to eat out and it is ideal if you want to stick to a budget. The food is filling, good quality and more value for money.
Quite often, tourists will walk past this type of place when looking where to eat, as it is not the usual form of restaurant or holiday enticement. What I would say is, keep your eyes peeled and take a look next time. It certainly is worth a try and eating where the locals choose is definitely a winner in my books.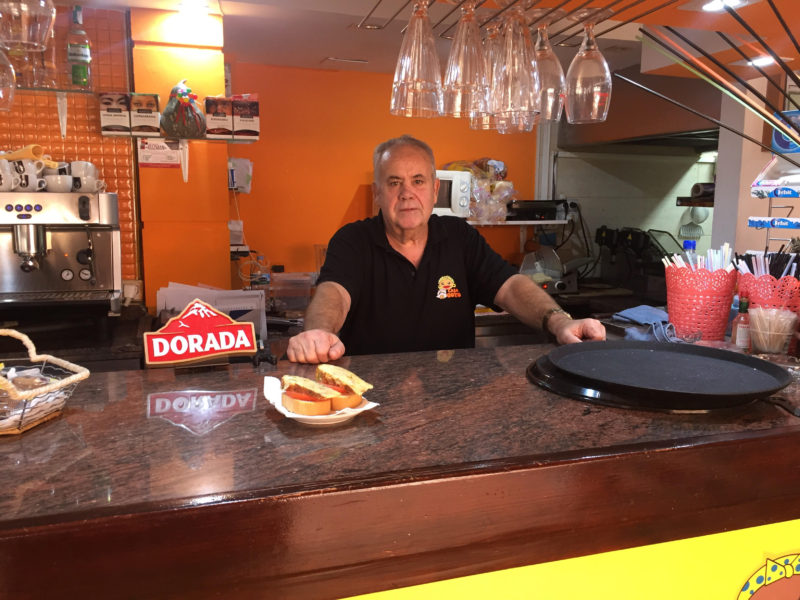 Tip 5 – to maximise your money and selection, head into one of the local towns where you will find even more selections of great food, tapas and cheaper prices. You will find great soups, goat stews, cheeses and meat dishes, all for half of the price you would pay in the tourist areas.
Luckily, Casa Goyo has reasonable prices even though they are only 5 minutes walk from the beach so it's great to know that this cafeteria is offering excellent food, at a reasonable price.
After my food, the stunning scenery of Los Cristianos offered me a perfect setting to stroll along and click away on my camera. Perfectly relaxed and satisfied with my choice of tapas.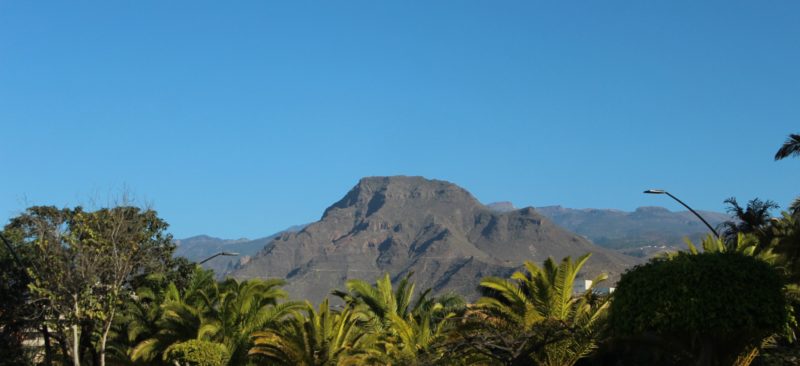 If you are staying in Playa Las Americas then I would recommend 'Rosie's Bar' which is situated opposite the Chieftain Pub, close the Columbus Hotel. If staying in Costa Adeje, I would recommend Bar Rebumbio which is situated at Fanabe Plaza.
Choosing a good tapas restaurant or cafeteria is part of the fun of exploring so 'enjoy the fun' and hopefully you will be sure to find some tasty treats!
For more information on Tenerife and where to eat, you can visit my blog:www.tapasintenerife.com