While the climate in Tenerife is generally favourable all year round, offering spring like temperatures, blue skies and the beautiful sun beaming down on tourists and locals alike, things are not always perfect. We love Tenerife of course, but we can't deny that things can get a little too hot even for our liking in the summer months. It is not often the case that you will face heat like in other destinations such as Dubai or Australia which can both be absolutely unbearable in the summer. On the other hand there are times when you will be faced by hotter than average temperatures and at these times even Canarians born and raised on the island find themselves hotter than they would prefer.
The beach can offer some respite if you regularly take a break from sunbathing and take a refreshing swim, but the sun will undoubtedly be bearing down on you when you're back on the sand. You can get some respite from the heat indoors, but without a fan or air conditioning, even sheltering inside can start to feel like an oven. This can leave you feeling lethargic, hot and bothered and irritable, not the kind of mood you were hoping for when you are supposed to be enjoying a relaxing holiday. The trouble is that many resorts, hotels and holiday rental apartments do not have air conditioning units, or even a fan.
The problem isn't just confined to the daytime when the sun is out and strongest, because temperatures can remain uncomfortably high even at night time. This of course is not conducive to a restful night's sleep. Instead you will find yourself restless and continuously waking up, feeling hot and sweaty. Then the next day when you want to enjoy yourself exploring the island or going on an excursion, you'll feel exhausted if you have suffered from a lack of sleep. Don't worry though as we have the perfect solution to keep you cool this summer in Tenerife. You should definitely rent a portable air conditioning unit from Portable Air Conditioning Tenerife!

This is a brand new option on the island that has not been possible before and will save you from feeling overheated. The units are modern, extremely easy to operate and highly effective at their core function which is to keep you feeling cool, calm and comfortable. When you decide to hire one of the units from Portable Air Conditioning Tenerife, you don't need to worry about any set-up difficulties because the team will take care of all of this. Your friendly delivery driver will bring the unit to your apartment or hotel, place it in the ideal position, show you how to operate it correctly and even plug it in. All you have to do then is turn it on when you need to be cooled down, or off when you're cool enough.
Another successful day #coolcustomer#inkbandit pic.twitter.com/ks6uxQqZ16

— Portable Aircon (@portairconten) July 26, 2017
The portable air con units are available for hire to  holiday, residential, commercial and bespoke clients. They are perfect for those on vacation who find their hotel room or holiday apartment is too hot. They are also ideal for residents and business owners who do not feel the need to install permanent air conditioning, because throughout most of the year this is not necessary in Tenerife, due to the pleasant spring like temperatures. Prices also decrease per day if you decide to rent the unit for over a week, over two weeks and so on, making this even more affordable for those on a longer holiday or for residents or business owners.

Portable Air Conditioning Tenerife also offers high quality and powerful Pedestal Fans for rental which can also be delivered directly to your apartment, hotel, business or home. Overall the portable air conditioning units and fans are High Quality, Modern and Energy efficient and the perfect solution to stifling summer days (and nights) in Tenerife, meaning you can sit back, chill out and relax in comfort on holiday or at home.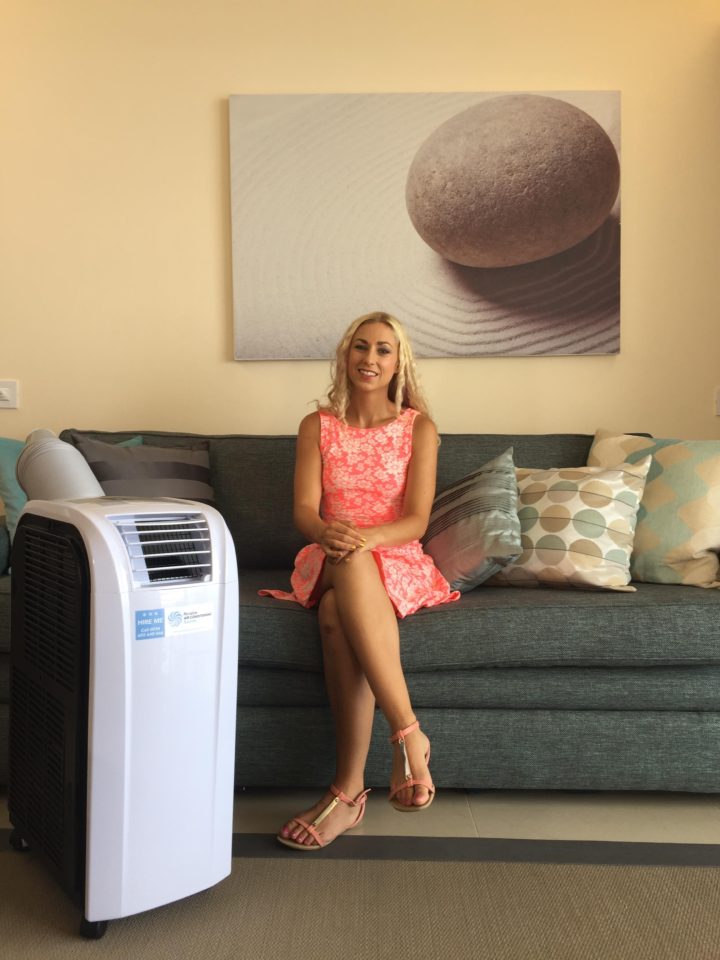 Another issue you may face during summer in Tenerife is overheating while you are out and about, either exploring some of the beautiful natural landscapes, wandering around the fascinating villages, towns or captivating capital Santa Cruz, lounging by the pool or sunbathing at the beach. Of course a portable air conditioning unit can not help you during these moments, but there is another simple solution that you can make use of. This is the brilliant Beauty Formulas Body and Face Cooling Mist! Portable Air Conditioning Tenerife are now the exclusive distributors of this wonderful cooling spray in Tenerife.

While this product has been available in much of the rest of Europe for many years, it is only now possible to buy it in Tenerife. Now though, with this possibility you no longer have to worry about feeling overheated while you are out and about on the island during the summer. With the Beauty Formulas Body and Face Cooling Mist you can cool down anywhere you decide to go.
It cools and refreshes the skin and is perfect for all hot weather conditions. It is safe for all skin types as it is preservative free and can be used as often as required. This cooling spray instantly stimulates and revives the skin, leaving you feeling cool and refreshed and ready to carry on enjoying your holiday in Tenerife.
Just for fun with our friends @portairconten #coolingmist #tenerife pic.twitter.com/JkGeslVk8I

— Pearly Grey Tenerife (@pearly_grey) July 25, 2017
So whether you are back at your hotel, apartment or home, or out and about at the beach, by the pool or exploring Tenerife, Portable Air Conditioning Tenerife have the perfect solutions for you for chilling out this summer. You can rent the portable air conditioning units and fans, and order the Body and Face Cooling Mist directly from their website: http://portableaircontenerife.com/.

We also recommend connecting with them via social media to stay up to date with all new product updates and special offers:
If you are thinking of investing in property development in Tenerife then make sure to take a look at Andreas & Partners website. Alternatively, if you are planning to move to Tenerife or buy a holiday home or property for rental here, then take a look at the Second Home Tenerife website and Top Immo Teneriffa website.
Save
Save